With so much web analytics software available today, finding one that best suits your business needs can be challenging. 
Mixpanel is a helpful tool for gaining insights into your products and users. It offers a variety of features for monitoring user activities, tracking user cohorts, and analyzing user behavior. However, this solution is not without flaws which motivate customers to look for alternatives.
One alternative you can test is FullSession, our web analytics tool that helps track user behavior on your website, web app, or landing page. It has valuable features such as session recording and replay, interactive heatmaps, customer feedback forms, and advanced analytics to help you optimize your product performance. What's best, you can evaluate these features for free. All you need to do is create your account today.
In this blog post, we will explore five different Mixpanel alternatives to help you find the perfect fit for your unique needs. Each of these services offers useful features for monitoring user activity and analyzing usage data, so you can understand how users interact with your site or app. 
Continue reading to learn more about these services.
What is Mixpanel?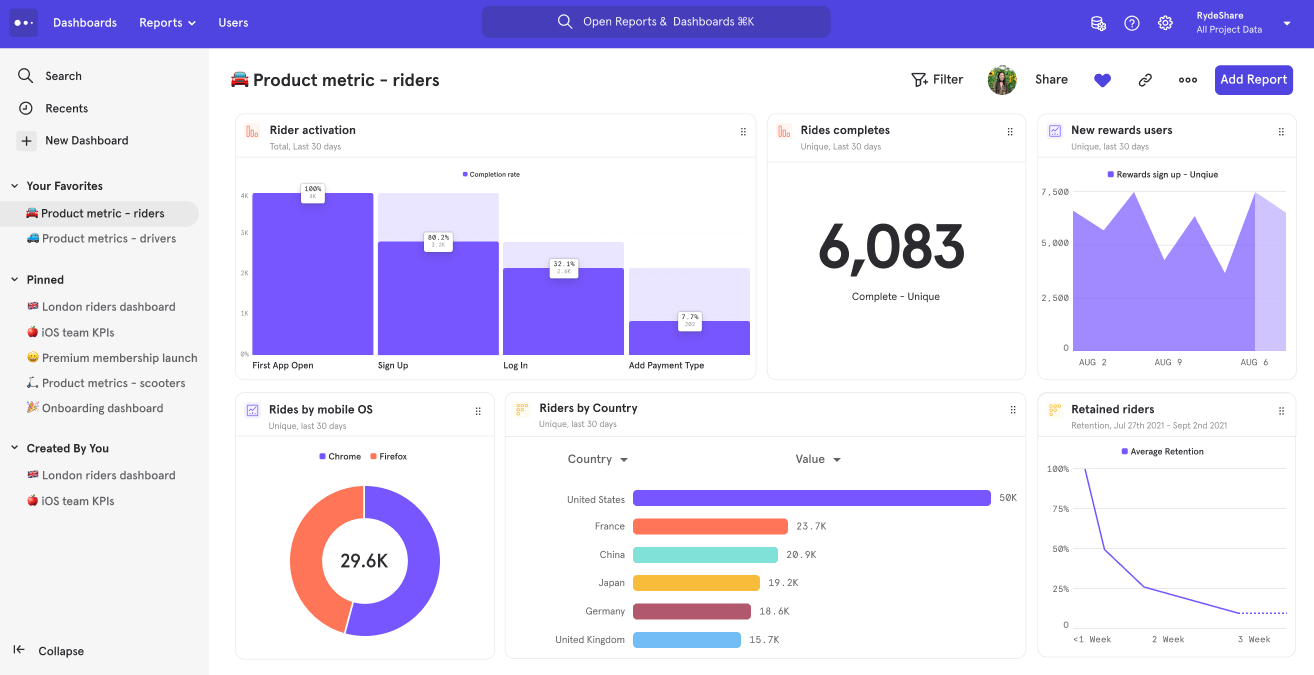 Image source: Towards Dev
Mixpanel is a behavioral analytics platform that provides real-time audience engagement data. It allows you to track multiple events, including user actions on your website, what leads visitors to convert into customers, and how visitors interact with your app and campaigns.
The platform also lets you segment your audience based on demographics, behavior, and location. It provides analytics to help identify which channels drive the most engagement, where you are performing best, what parts of your site or app produce the most traffic, and which audiences are the most engaged with your content. 
With these insights, you can optimize your marketing efforts and improve conversions.
How does Mixpanel work?
Mixpanel focuses on event tracking rather than page-level tracking. It tracks events when users take a particular action. You can customize these events according to your requirements.
It is most useful for post signup analysis when the lead becomes a customer. You can track how customers use your product and understand their behavior to build a better product.
How can Mixpanel help product teams to gather insights from the user data? Here is what Mixpanel offers to all its customers. It differentiates features into three categories – analysis, dashboards, and reports.  
    1. Mixpanel analysis
The first step is to set up events in Mixpanel. For example, 'watched a video completely' is an event. After setting up the event, the event data starts flowing in. You can look at the trends by using appropriate filters and conditions.
Continuing with our previous example (watched a video completely), you might be curious to know how the user came to your website and started this event. 
Mixpanel identifies the most used paths and marks them as best performing or the least performing flows. You can also specify any issues in these paths that stop the users from completing an action.
You can set up funnels in Mixpanel to help product and marketing teams understand the user journey. The funnel analysis will provide insights into any bottleneck or distraction that reduces conversions.
Mixpanel provides predictive analytics as well. For example, suppose you want to understand how many users can convert to paid users during a free trial. In that case, Mixpanel analyses the product usage and other factors to predict the outcome.
    2. Mixpanel dashboards
You can set up customized dashboards on Mixpanel, choosing what is essential to work on daily. These dashboards are user-friendly and very easy to adjust to your needs.
    3. Mixpanel reports
Mixpanel offers a wide range of reports. Here are some of them:
Experiment report for A/B testing analysis 

Impact report for product launches 

Signal Report for correlation between user actions and cohorts
What are Mixpanel pros?
Now that you understand how Mixpanel works, let us look at its advantages:
Mixpanel is event-centric and optimized for large data sets

All events are tracked at an individual level, which means you can see the user's details (name, email address, etc.)

The interface is intuitive, so you don't need specific tutorials to use the tool

The customer support is responsive and helps with immediate solutions
What are Mixpanel cons?
Here are a few shortcomings of Mixpanel:
According to G2 reviews from Mixpanel customers, users have experienced performance issues when working with massive data

Dashboards can accommodate up to 8 reports 

The product doesn't focus on the pre-sale phase, where you need to set up sales funnel and track marketing data
We discussed all the essential details about Mixpanel, so let's see the best Mixpanel alternatives in 2022.
The top 5 Mixpanel alternatives in 2022
By now, you know how Mixpanel helps teams with customer journey mapping and product analytics. We tried and tested the top 5 Mixpanel alternatives, and here is our feedback.
  1. FullSession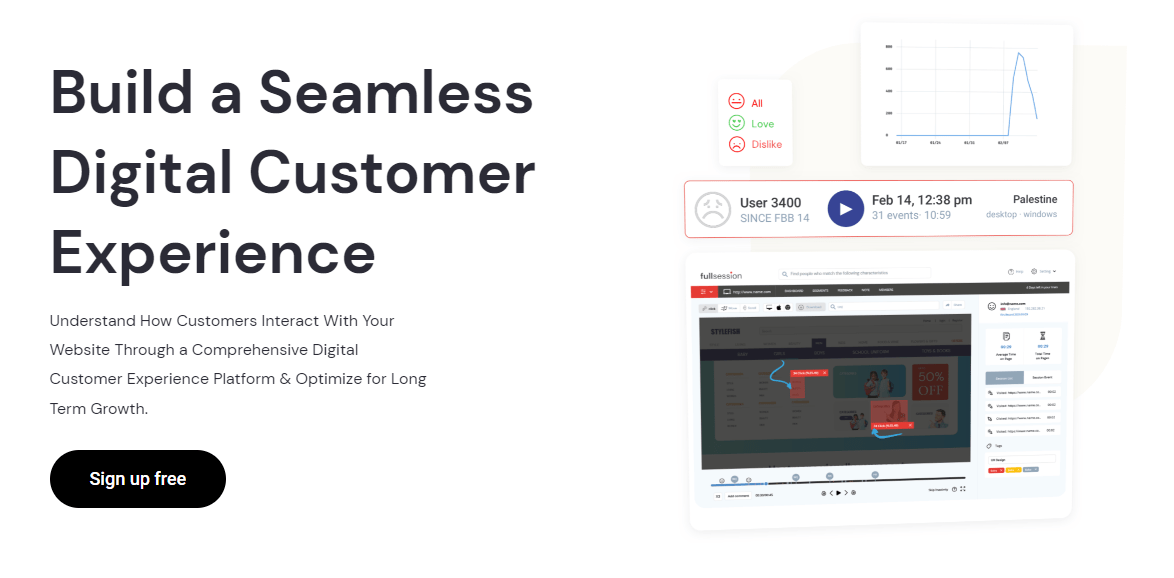 FullSession is a web analytics tool that monitors, measures, and analyzes the effectiveness of a website, web app, or landing page. It tracks engagement data across various channels, devices, and periods to help you understand what works best or needs improvement.
FullSession users
Web analytics experts, digital marketers, web developers, UX designers, and sales representatives primarily use FullSession. A lot of eCommerce companies use it to track and analyze data.
Deployment
FullSession is easy to use. You have to follow a few instructions to set up Fullsession all by yourself without help from the technical team. FullSession is currently available as SaaS. You can check it out by signing up for a free trial.
What makes Fullsession unique?
FullSession doesn't confuse you with too many features. It includes ones that help you get the job done – session recordings and replays, interactive, real-time heatmaps, customer feedback forms, and advanced analytics. Our primary goal is to help you track user activity and analyze user behavior.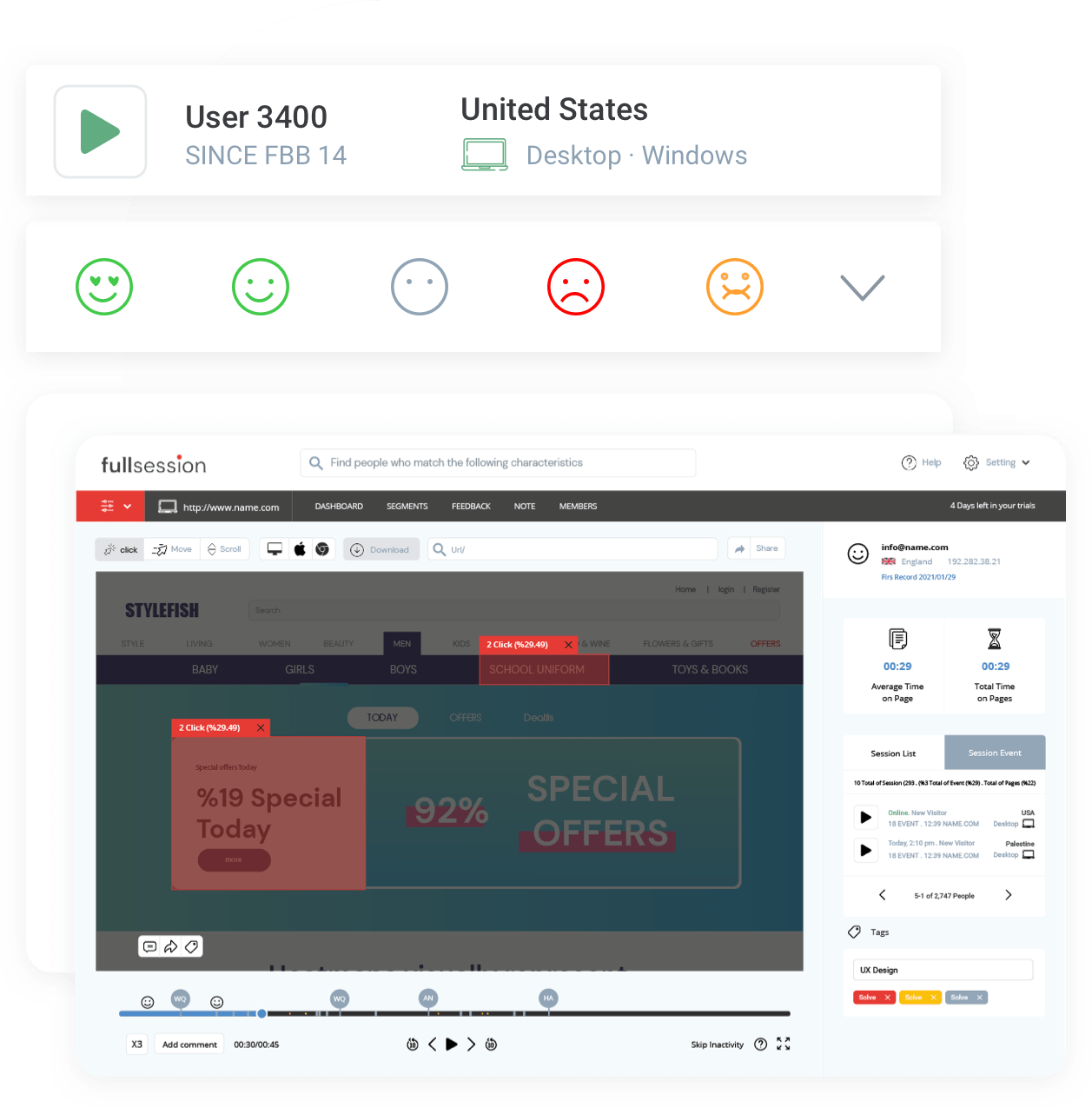 Our session recordings and replays help you watch user sessions and pinpoint any issues they may have while browsing your website. 
To see what website elements attract or repulse your visitors, interactive heatmaps provide real-time data about your users' actions, such as clicks, scrolls, or mouse movements.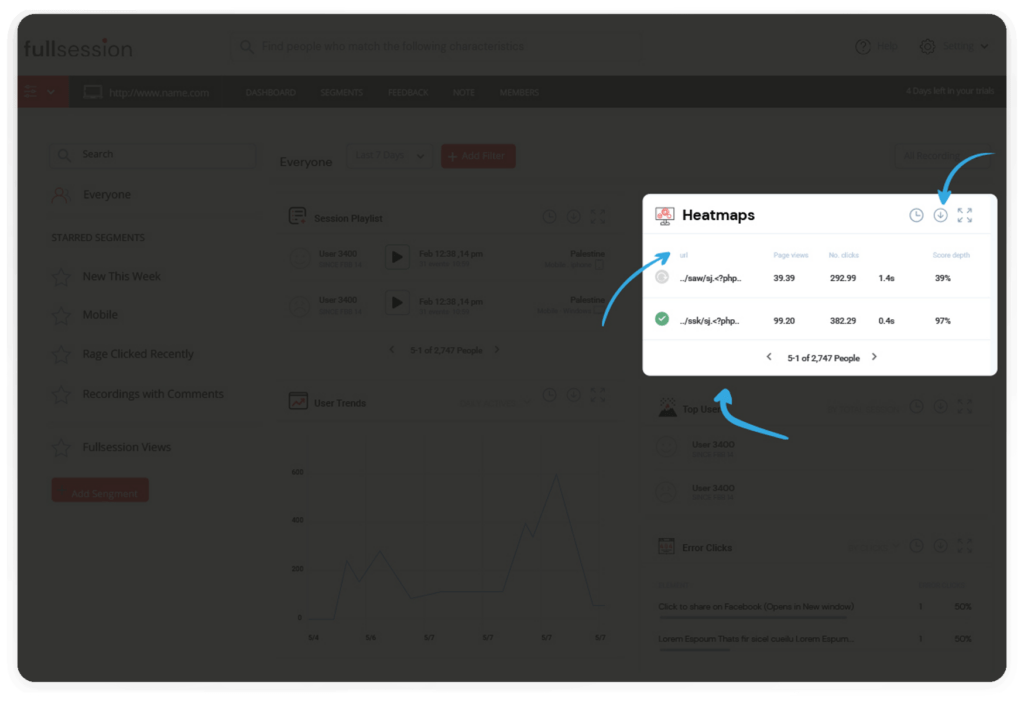 Customer feedback forms help you gather user feedback and hear their honest opinions about your product's experience. You can also watch a session recording of a specific user that left the negative feedback to understand what happened during the session.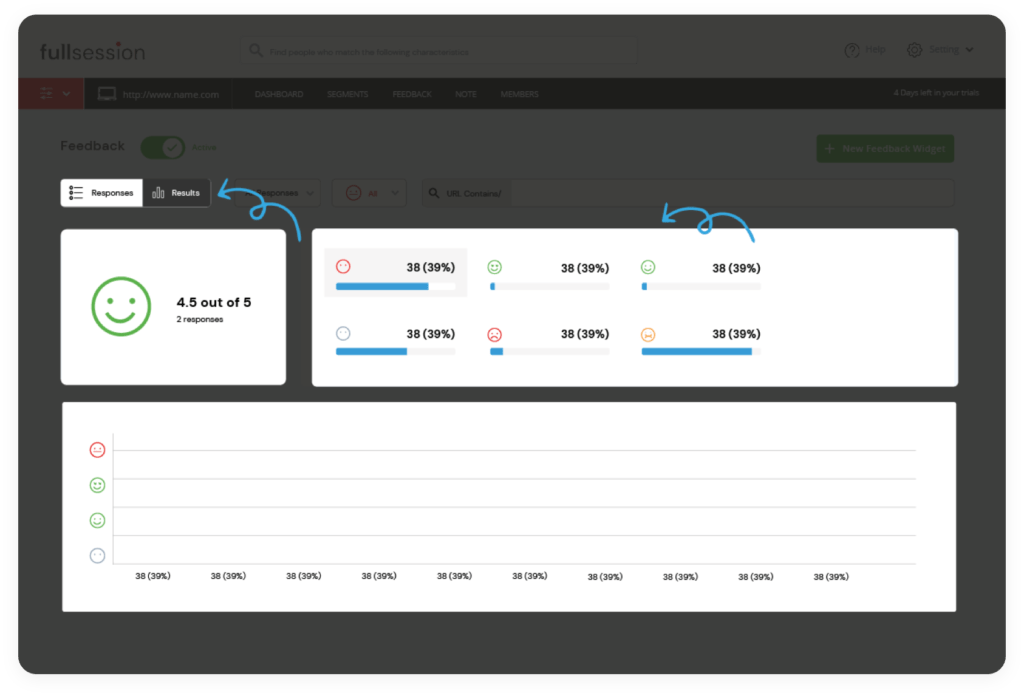 Integrations
FullSession integrates with BigCommerce, Wix, WordPress, and Shopify. You can read our detailed guide for more information.
Customer Support
In case you need help, you can contact us via live chat, send us an email, read our guides, or visit our support center.
Pricing
FullSession comes with a completely free trial. You can explore all FullSession features and benefits. It is an excellent opportunity to evaluate FullSession and see if it is a good fit for your business. You can start your free trial today. No credit card is required.
We offer 3 pricing plans:
Basic Plan – $39/ month

Business Plan – $99/ month

Custom plan for enterprise-level customers
Pros
FullSession is very handy for businesses looking for an advanced web analytics tool. Let us look at some of the core advantages of FullSession:
FullSession will thoroughly analyze visitor behavior and friction points through broader analytics tools

FullSession insights comprehensively analyze visitors' behavior and friction points that may lead to funnel dropouts and affect conversion rates

FullSession has advanced filtering options to understand visitor experience better and identify sessions that raise an eyebrow

FullSession helps identify major events inside a session to save time and pinpoint issues faster

FullSession provides behavior and activity tracking to optimize conversion rates better

FullSession will allow you to make the proper CX analysis without affecting website performance
Cons
FullSession currently doesn't provide mobile app analytics

Our interactive heatmaps are still in development and will be deployed soon
      2. Google Analytics

Image source:
FinCon
Google Analytics is a popular web analytics platform.  It can track sessions and provide insights based on audience behavior and conversions.
User Rating
Google Analytics is rated 4.5/5 on G2 based on 5,771 user reviews. Most users are happy with its features, and some feel it is occasionally complex to use.
Google Analytics users
Everyone uses Google Analytics. A beginner who just created their website a few days ago uses Google Analytics to understand the website performance and user journey. 
A large company with hundreds of employees also uses Google Analytics to understand event tracking, customer journeys, usage data, customer engagement, customer behavior, and user sessions.
Deployment
Google Analytics is available on the web. You can deploy it on your website by pasting a code from Google Analytics. You can also use WordPress plugins to add the GA tracking code.
What makes Google Analytics unique?
Google Analytics is a by-product of Google. As most websites try to rank in the Google search engine, it helps website owners get an edge and better understand how to optimize their products.
Integrations
You can integrate Google Analytics with all Content Management Systems (CMS) since the code is flexible to use on any website.
Customer Support
Google Analytics offers extensive documentation to help understand and use the tool effectively. Additionally, they also have 24/7 email and chat support for any queries.
Pricing
Google Analytics has an extensive free version that is used by most businesses and individuals. The premium version costs $150,000 per year.
Pros
The accuracy of the metrics 

The tool is free to use and gets the job done with its comprehensive details on user location, devices, and browser
Cons
Though Google Analytics is a helpful tool, it cannot cover all tracking needs for a website 

Setting up tracking manually can be a challenge to non-technical users

You cannot create custom event tracking, which makes Google Analytics less flexible

It can only track URLs and is more compatible with websites than mobile apps

There is no option to record and replay sessions to understand the key website issues
      3. Amplitude Analytics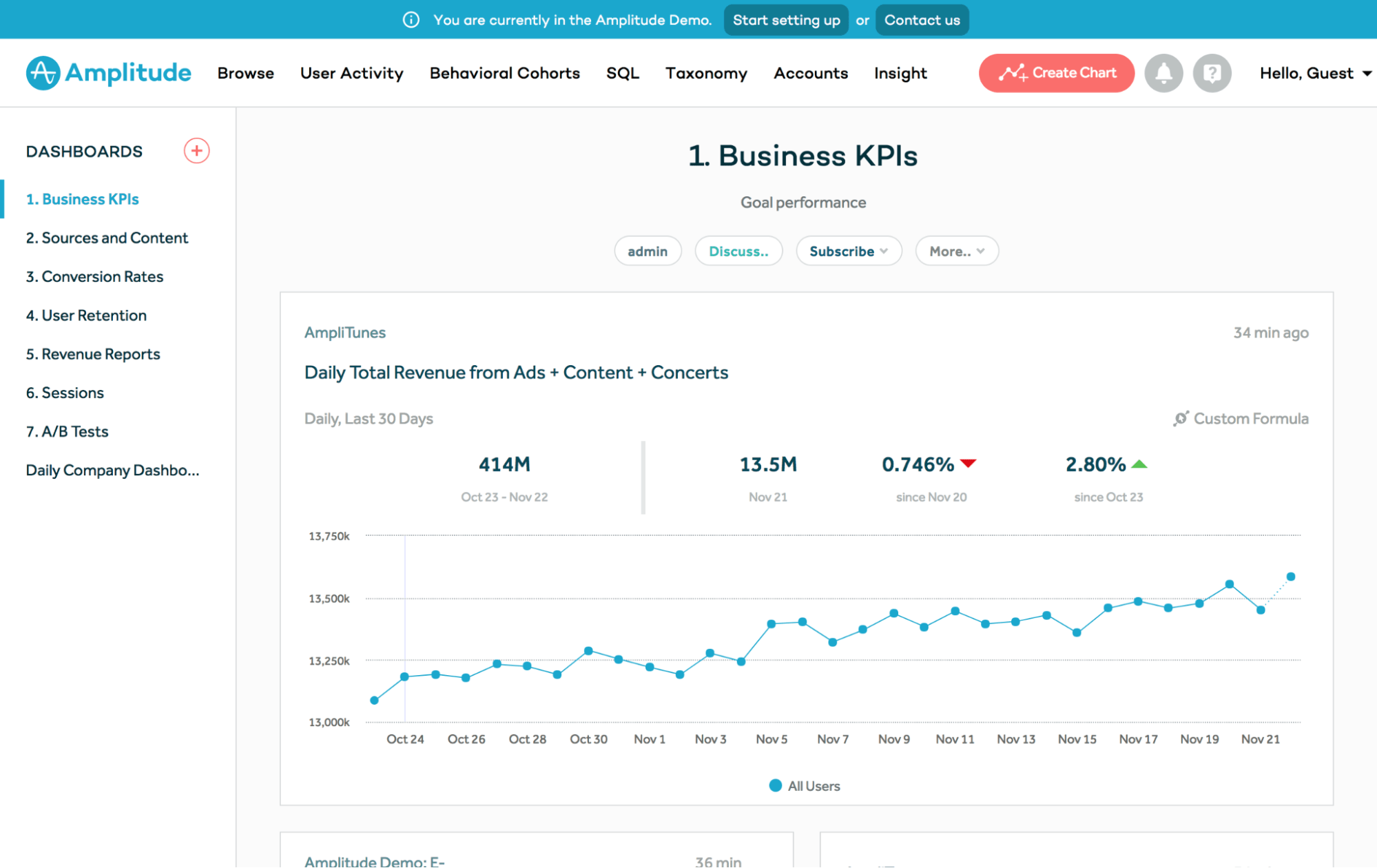 Image source: Software Advice
Amplitude Analytics is a product analytics platform that helps track user behavior. It is similar to Mixpanel but comes with more flexibility. It helps you build better products, drive conversions, and increase engagement, growth, and revenue by making data-driven decisions.
User Rating
It has a user rating of 4.5/5 on G2 based on 1,438 user reviews.
Amplitude Analytics users
It is used by digital marketers, product and web analytics experts, UX designers, etc. Their major customers are BurgerKing, Intuit, UnderArmour, and many more.
Deployment
Amplitude analytics is available on the web. You can set up the event tracking with the help of the development team.
What makes Amplitude Analytics unique?
The built-in guidance makes navigating and using the product analytics platform easier.
Customer Support
Amplitude Analytics has a comprehensive resource center where you can get answers to most of your questions. They also have a live chat that is available during regular working hours.
Pricing
They do have a basic free version which is called 'Starter' followed by Growth and Enterprise plans. They did not quote any specific pricing for the paid plans or custom pricing information.
Pros
It provides real-time user analytics that includes user retention, revenue analysis, funnels, and behavioral analytics with flexible segmentation

The predictive analysis in Amplitude Analytics predicts growth opportunities, conversion ratios, and churn possibilities

It helps you to analyze the user behavior behind any data point. You can also compare the behavior of engaged and churned users. 
Cons
Funnels are not flexible enough. For example, there is no option to add non-mandatory steps in a low importance funnel.

You need to manually implement all event tracking, making it time-consuming and tedious.
      4. Adobe Analytics
Image source: Contentkingapp
Adobe Analytics is a marketing analytics platform that gives business owners real-time insights and historical data about how their audiences behave.
User Rating
Adobe Analytics is rated 4.1/5 on G2 based on 842 user reviews.
Adobe Analytics users
Even though top companies like Barclays, Citi, Deloitte, and Dell use Adobe Analytics, 67% of customers are small business owners.
Deployment
Adobe Analytics is available on the web, but you can also access the dashboards from the app. You might need tech support to set up the event tracking.
What makes Adobe Analytics unique?
Adobe Analytics can gather and track data from devices like websites, mobile apps, kiosks, screens, third-party websites, etc.
Integrations
Adobe Analytics integrates with Adobe Experience Cloud and Adobe Exchange for better visualization of the event tracking.
It is simple to integrate with third-party websites using API documentation. The product team can use these documents to integrate any tool with Adobe Analytics successfully.
Customer Support
Customer support provides relevant resources based on customer queries and ends with personalized guidance. The quickest way is to visit the Adobe Analytics customer support page.
Pricing
The pricing for Adobe Analytics is custom. The feature enablement depends on the requirements of your business. There is no free trial. Adobe Analytics falls on the expensive side and can cost more than $100,000/ year.
Pros
The data tracked through Adobe Analytics is unsampled and gives accurate analysis. 

Channel monitoring – Adobe Analytics tracks data from online sources and brick-and-mortar sources

Cross channel attribution – The same user might reach the website through different channels. Most of the time, the system will count these visits double. Adobe Analytics identifies and maps these cross channels under a single customer journey

Reports are easy to share in Adobe Analytics. You can also use Adobe Analytics Dashboard application on mobile to view reports
Cons
Not providing a free trial is a massive setback for anyone evaluating Adobe Analytics. Investing in such an expensive product without a trial is extremely unlikely.

Even though the reports are extensive and easy to use, the loading is slow when dealing with large data sets
      5. Quantum Metric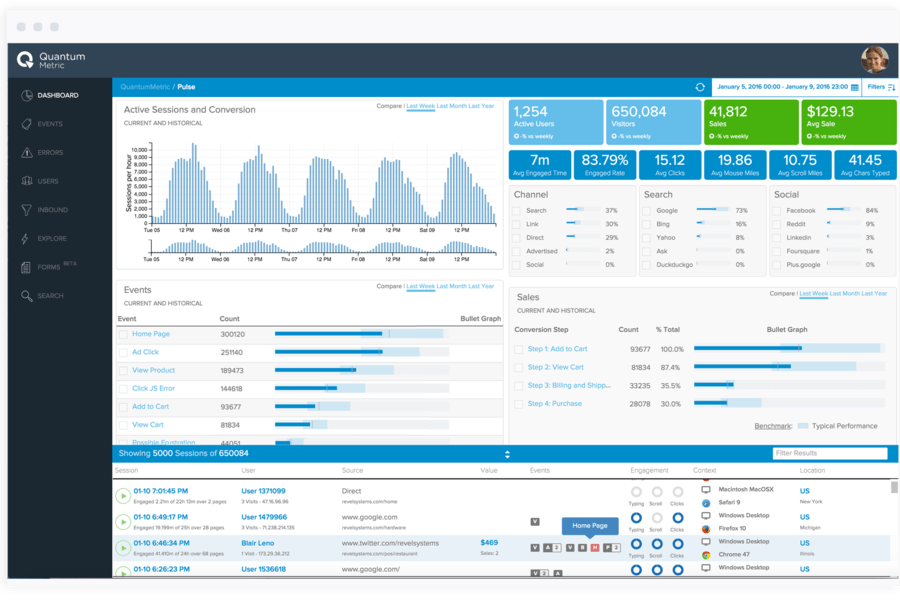 Image Source: Crozdesk
Quantum Metric is an analytics tool that captures customers' experience as they visit your website, maps the customer journey, and analyses the page performance.
User Rating
Quantum Metric is rated 4.7/5 on G2 based on 125 user reviews.
Quantum Metric users
Quantum Metric is used by product, analytics, and marketing teams across different industries such as retail, financial services, gaming, travel, insurance, and telecom.
Deployment
Quantum Metric is available on the web and is easy to deploy by setting up events.
What makes Quantum Metric unique?
Quantum Metric is unique because the software automatically tracks the standard user actions and allows a manual setup of custom event tracking.
Customer Support
If you are a paid customer, you will have access to the customer success team, who will help you with all the queries. For a non-customer, the chatbot is the only option to receive customer support.
Pricing
Quantum Metric provides custom pricing based on your business requirements.
Pros
Creates alerts that notify you of the issue right away. You can review it using session replays and assess the problem to find the solution

The ability to search from a wide variety of fields helps narrow down the results
Cons
There is no short training inside the tool. Taking full training each time from Quantum Metric University is time-consuming.
Mixpanel alternatives: A short overview
| | | | | | | |
| --- | --- | --- | --- | --- | --- | --- |
| | Mixpanel | FullSession | Google Analytics | Amplitude Analytics | Adobe Analytics | Quantum Metric |
| G2 Rating | 4.5 | – | 4.5 | 4.5 | 4.1 | 4.7 |
| Session Replay | Yes | Yes | No | Yes | Yes | Yes |
| Customer Journey | Easy | Easy | Difficult  | Easy | Easy  | Easy |
| Event Tracking | Easy | Easy | Difficult | Difficult | Difficult | Easy |
You can also check out our in-depth comparative analysis on Hotjar vs Mixpanel vs Clicktale here.
Mixpanel alternatives: The verdict
All the tools discussed above have their own advantages and disadvantages. Choosing a tool completely depends on the kind of features you are looking for.
We recommend you start using FullSession to track your website visitor behavior, understand issues with your sales and marketing funnels, improve your customer experience and increase conversions. To start using FullSession, create your free account.
Mixpanel alternatives: FAQ
Is Mixpanel better than Google Analytics?
If you are looking for a product analytics solution then Mixpanel is the better choice. Otherwise, you can choose Google Analytics free version for event tracking.
Which is better Amplitude or Mixpanel?
Both Amplitude and Mixpanel are good tools for product analytics. Amplitude comes with additional features like promotional messages, managing email lists based on the actions taken by users, etc. Such features reduce the manual effort of updating events and the starter package is free of cost. Considering the above points, it makes sense to choose Amplitude over Mixpanel.