We all know that it's essential to track website conversion rates, but what about monitoring customer journeys on your website? By mapping out the customer's path to conversion, you can identify potential obstacles and optimize your website accordingly.
In this article, we will go in-depth about the different methods you can use to map customer journeys. We will also explain how to use FullSession, our user behavior analytics tool, and its features, such as session recordings and replays, interactive heatmaps, and customer feedback to map customers' journeys quickly and efficiently. If you want to try out FullSession, you can register your account today and start a 14-day free trial.
Understanding how your customers go from observers to promoters will help you create a more personalized experience, which is why you should start mapping their journeys as soon as possible. Let's start with the basics.
What is customer journey tracking?
Customer journey tracking helps you monitor all digital interactions between the customer and your business. That journey starts when customers first interact with your company (visit the website, sign up for newsletters), and it ends when they stop all activities. It is an excellent way to analyze your customers' engagement with your company and learn more about retaining them longer and increasing customer lifetime value.
Why is customer journey tracking important?
Customer journey mapping is essential because it gives you a unique perspective and helps you optimize and maximize your marketing efforts. To understand how customers interact with your brand, it is necessary to track their journey from beginning to end. By mapping out the customer's path to conversion, you can identify crucial touchpoints and increase conversions.
Additionally, customer journey tracking can help you identify areas where the customer may drop off in your marketing funnel, allowing you to make necessary changes to your marketing strategy. It is essential to collect data from various sources, such as web analytics, customer surveys, and sales data, to track the customer journey effectively. You can use this data to create a customer journey map that helps you understand the customer's experience and make improvements.
Benefits of customer journey tracking
There are many benefits of customer journey tracking. Businesses can optimize their marketing and sales efforts to meet customer needs better. Companies can build stronger relationships with their customers by learning how they interact with their products and services. 
Here's a quick list of other customer journey mapping benefits you might not have thought of before:
Creating a better experience for your customers

Providing more accessible content 

Personalizing products and services

Increasing customer retention

Creating a more user-friendly website

Making marketing efforts more targeted and effective

Receiving accurate retargeting insights

Learning more about your customer base

Accelerating sales cycle

Increasing profits and revenue

Identifying problem areas and pain points

Increasing customer loyalty
Why use customer journey analytics?
As you know, customer satisfaction is essential to success. Happy customers are more likely to return and recommend your company to others. Therefore, it is necessary to understand the customer journey, from first contact to post-purchase follow-up. That is where customer journey analytics comes in.
By tracking customer behavior and interactions across touchpoints, you can gain valuable insights into what works and what doesn't. You can then use this information to improve and personalize the customer experience. In today's competitive marketplace, customer journey analytics is essential for any business that wants to stay one step ahead of the competition.
How to map your customer's path to conversion
Mapping your customer's path to conversion is a great way to optimize your website and improve your marketing strategy. By understanding your customers' steps to make a purchase, you can make the process as smooth as possible. So, let's get started!
     1) Establishing business goals 
Establishing business goals gives you and your sales and marketing teams a clear idea of what you want to achieve. Without setting business goals, you won't be able to effectively track the success and effectiveness of your customer journey maps. Undefined business goals cause a lot of confusion and stress for companies. Here's what you need to focus on:
Implement a performance management system

Define each goal

Define key performance indicators

Allocate resources

Establish a timeline
     2) Identifying touch points and critical moments 
The first step is to identify the customer's entry point into the journey. With the first touchpoint, the customer begins engaging with your company through social media, Google searches, referrals, or other sources.
Once you've identified the entry point, you can track the customer's journey through your sales funnel. It will help you see where customers are dropping off and identify potential roadblocks. Once you have a clear understanding of the customer journey, you can start to make improvements that will lead to more conversions.
     3) Tracking and analyzing data
Tracking and analyzing data is a significant part of customer journey mapping. It allows you to get a precise insight into what your customers are doing and how your optimizations are performing. You can track and analyze user behavior with tools like FullSession that monitor all user activity on your website, web app, or landing page and provide you with statistics and visual data that help you understand your customers better.
FullSession offers session recordings and replays, interactive heatmaps, customer feedback, and analytics, which are extremely important for keeping track of customer journeys. You can try FullSession for free, or stay tuned to learn more about each feature.
     4) Scoring the performance of customer journeys
Scoring the performance of customer journeys helps you pinpoint which customers require more attention and which conversion efforts aren't working. You can assign a journey performance score to each customer to see how profitable their interaction is with your business. You should define the score using different metrics that showcase the experience at various touchpoints and the value you receive from each customer experience. 
For example, one of the metrics can be the Net Promoter Score which calculates the customer satisfaction level with your business. You get this score by surveying customers about that experience and breaking down the results to see the average impression.
What are user behavior tools? 
User behavior tools help you understand how visitors interact with your website. By tracking user clicks, scrolling, and other interactions, these tools can provide valuable insight into what users are looking for and where they may be having difficulties.
You can then use this information to improve the user experience and optimize the customer journey by changing your website's layout, content, or navigation. Your team can also use user behavior tools to identify potential security risks or detect fraud. By understanding how users interact with a site, user behavior tools can help you keep your website safe and user-friendly.
How to use FullSession for customer journey tracking
FullSession is your best friend when it comes to customer journey analytics. We offer three main user behavior tracking tools – session replays and recordings, interactive heatmaps, and customer feedback forms.
Our user behavior suite also includes comprehensive analytics that helps you monitor behavior flow and receive actionable insights about how your customers interact with your website. Tools like FullSession are imperative in any customer journey mapping process. 
They give you a clear idea of what needs to be improved and which elements are working or not, and they help you identify challenging areas on your website that impact your customers' purchasing decisions.  
Here's how FullSession can help with your customer journey mapping efforts.
     1. Behavior flow
By combining all of FullSession's features and incorporating them into your customer satisfaction strategy, you will get a unique overview of your customers' behavior flow. Identifying the behavior flow is crucial because it gives you a visual map of how your customers behave while on your website.
For example, let's say that you have a big sale button on your homepage just below the fold. You'll see how many customers scroll past it, click on it, or ignore it altogether by tracking the behavior flow. Or, if you have a new collection, the behavior flow will help you identify whether your customers prioritize it over existing items.
Keeping track and noting down these bits and pieces of customer behavioral information helps you create a better offer and speeds up the process of turning window shoppers into customers.
     2. Session recordings and replays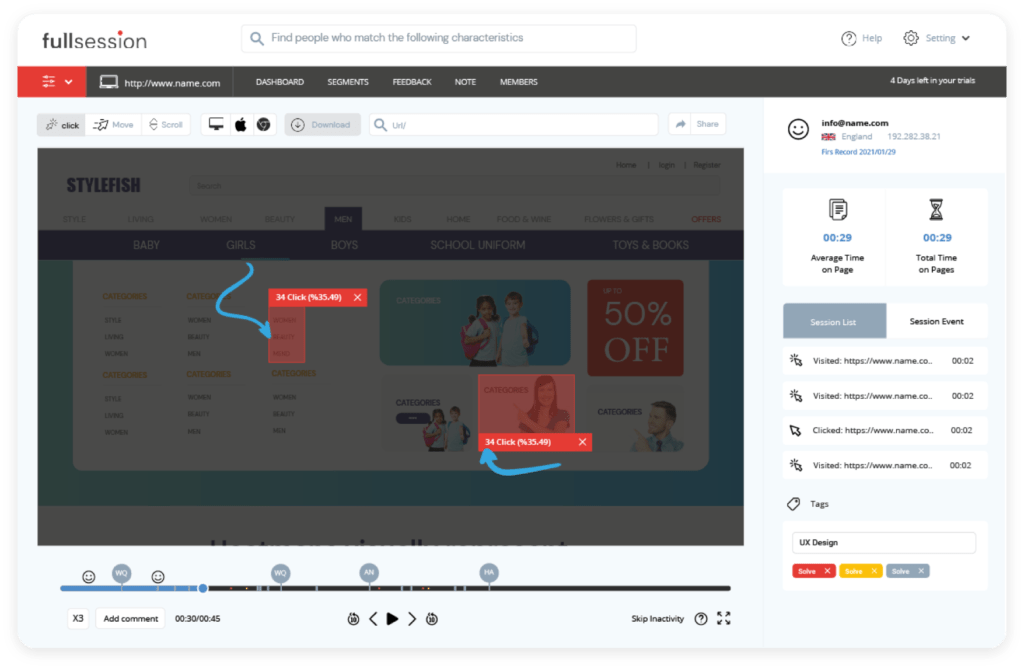 Session recordings are the embodiment of customer journey mapping. FullSession session recording and replay feature records every click, move, and action the user takes while on your website. You can install FullSession with a couple of clicks, and our software will automatically record the user activities across the whole website, web app, or landing page.
Customer behavior is predictable as long as you gather enough information while they browse your website. People shop in patterns. These patterns are important because they allow you to be proactive with your marketing strategy and stay ahead of your customers. Our session recording tool helps you do just that.
You can replay user sessions as many times as you want. That is particularly useful if you notice a lot of users bouncing off your website. Replaying a couple of user sessions can help you spot the issue causing an increase in the bounce rate, allowing you to fix it and prevent further losses.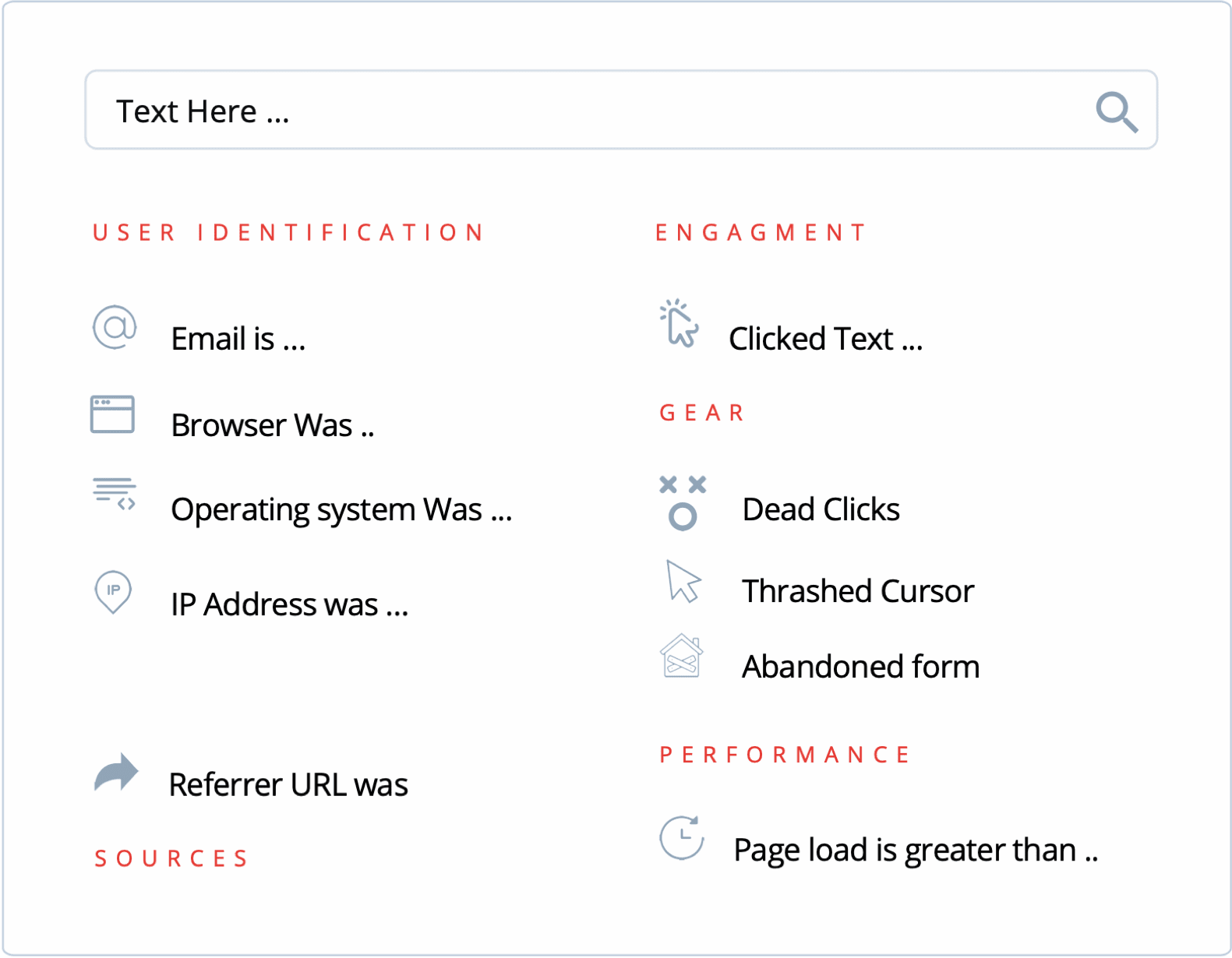 Our team has also added advanced filtering options to complement session recordings and make navigation more accessible and more convenient. You can segment sessions by:
Browser type

Email address

Operating systems

IP address

Referrer URL

Clicked text

Dead clicks

Thrashed cursor

Abandoned forms

Page load speed
     3. Interactive heatmaps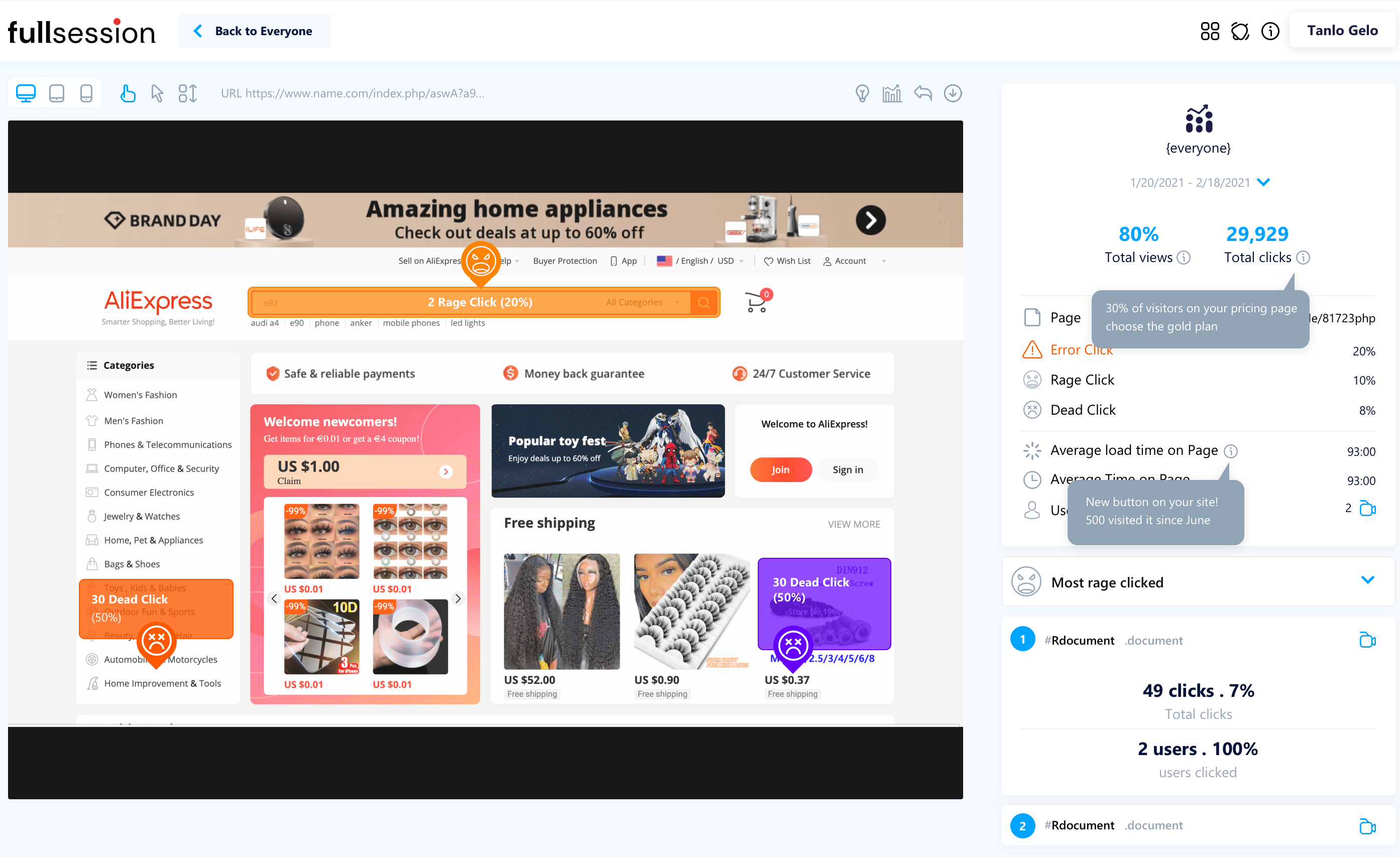 Heatmaps create a graphic overview of the most and least popular elements and sections of your website, web app, or landing page. It represents this data in a color-coded system where warm colors (orange-yellow-red) represent popular areas users frequently interact with, while cold colors (blue-green) represent areas users often overlook or completely ignore.
What sets FullSession's heatmap feature ahead of competitors is that it's interactive and doesn't slow down your website, unlike other similar tools like Hotjar. Besides static, it also lets you track dynamic elements like pop-ups, drop-down menus, and hidden items. It relays this information in real-time, meaning that you'll be able to analyze an interaction as soon as it happens.
     4. Customer feedback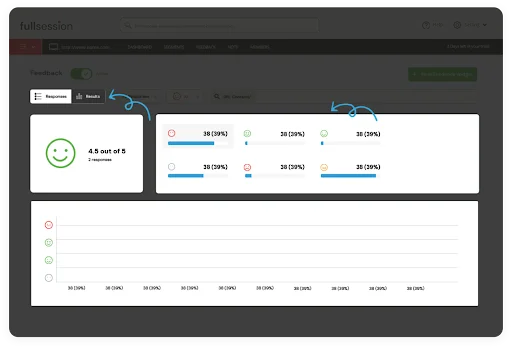 Feedback forms are a great way to find out what bothers or impresses your customers directly from them. Feedback forms remove the need for any guesswork because they gather information straight from the source. You can use the FullSession customer feedback feature to create pop-up forms and other types of surveys.
You can set up different triggers that prompt the survey to appear and enjoy a visual overview of the results. For example, if a customer is about to exit the website, you can set up a trigger and ask them about their experience on your website. With the FullSession user behavior suite, the options are endless, and you can create attractive customer feedback surveys in minutes. 
Try FullSession now and see how our tool can help map customer journeys and increase customer satisfaction.
     5. Insights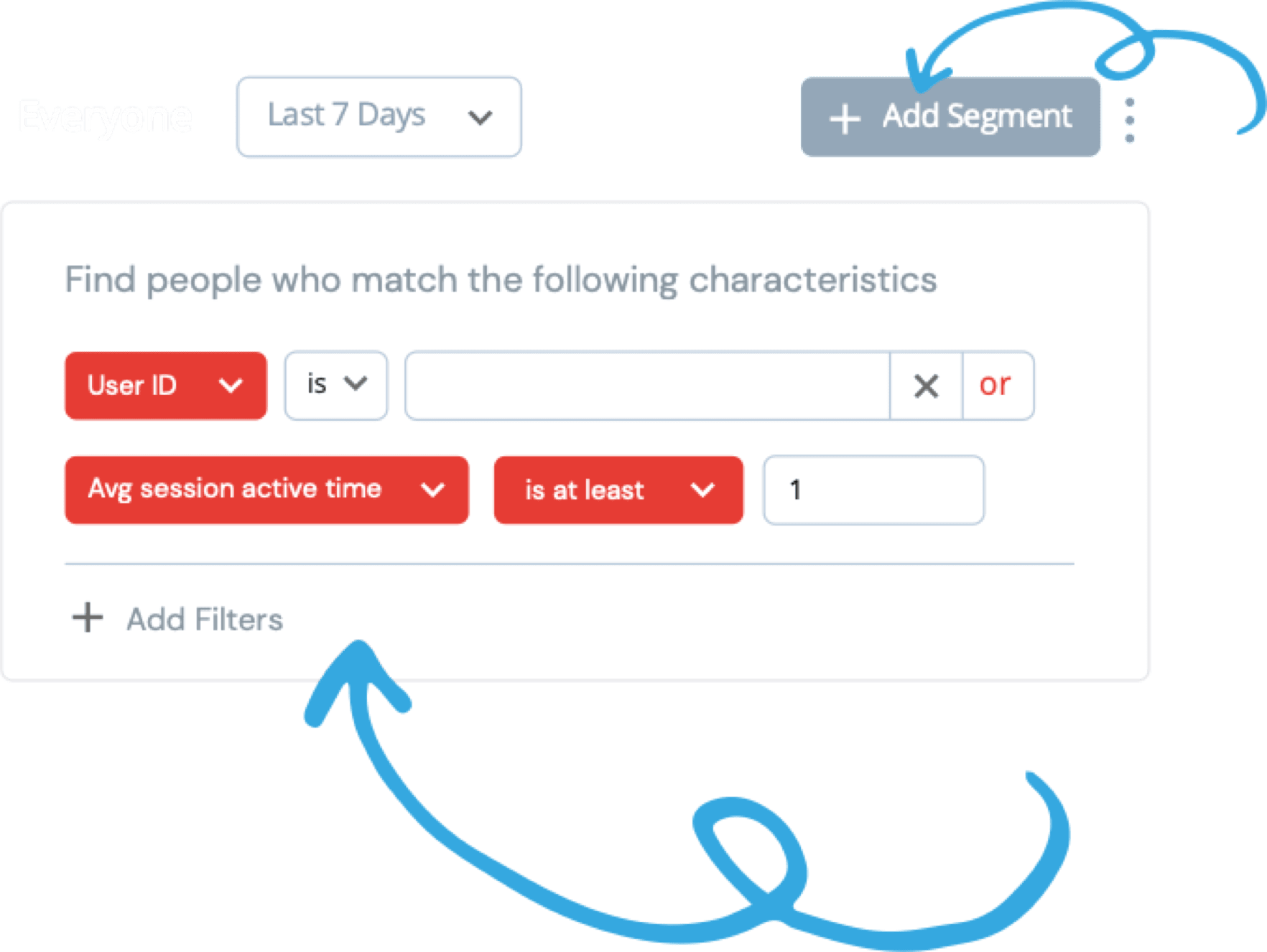 Insight is a handy tool for gathering, sorting, and reviewing different analytics that will help you understand your customer's journey. The results will indicate what you need to work on and what you need to keep up with. There are many benefits of using the FullSession insight tool, such as:
Increasing time spent on the website

Testing features

Segmenting and filtering different types of users

Monitoring user progress

Discovering

errors and pain points

Improving customer experience
Track customer journeys with FullSession
Every customer interacts with a business uniquely, and it's important to understand how they progress during the journey to optimize their experience. FullSession is a user behavior analytics platform that assists businesses with mapping customer journeys and identifying opportunities for improvement.
FullSession provides detailed data and analysis on every customer interaction, helping businesses to see where there are potential issues and make changes accordingly. With FullSession, you can take control of the customer journey and improve your overall performance. Sign up for free to see why dozens of business owners choose our solution.
Customer journey tracking FAQs
What is the customer journey mapping tool?
Customer journey mapping tools collect and visually present customer journey data for easy access and quality insights. These can be user behavior tools, map and chart designing tools, or customer experience solutions.
What are the best customer journey mapping tools?
There are many different customer journey mapping tools on the market that can make your choice very difficult. However, some tools stand out from the rest:
FullSession

UXPressia

Lucidchart

Microsoft Visio

Custellence

Omnigraffle

Smaply

IBM Journey Designer

InMoment

Asana
Five ways business teams benefit from customer journey analytics
The five main ways in which your teams can benefit from customer journey analytics are:
Increased revenue

Improved customer experience

Increased customer retention rate

Reduced marketing costs

Predicting customer behavior
Why do companies use customer journey analytics?
Customer data and journey tracking are vital for understanding how your customers interact with your brand. By mapping out the customer's path to conversion, you can identify pain points and develop strategies to improve the customer experience.  Analytics is a significant component because it quantifies the experience and gives you the statistical information necessary for any growth strategy.
What are the customer journey stages?
There are five main stages of every customer journey which all marketers and business owners should know:
Awareness stage

Consideration stage

Decision stage

Retention stage

Advocacy
How do you optimize customer journeys?
You can do that by gathering customer data and analyzing your customer's experience. For example, let's say you notice a user frequently visiting your website and looking at products or services but is still not converting. 
You would use FullSession session recording and replay tools to see the point they decide to exit. You notice that each time they want to add an item to the cart, the previous cart items reset. You can easily conclude that this error causes frustration and that an easy fix can make them convert in minutes.