Owners of online businesses are always looking for ways to improve their user experience. One way to do this is by using session recording and session replay tools. They help you understand user behavior and provide valuable insights to improve your website, web app, or mobile app performance.
Session recording captures user actions, shows you the entire visitor's journey from entry page to exit page, and lets you see how visitors react to each element of your website. With recorded sessions, you can see where your users have problems navigating which can help you make adjustments.
In this guide, we'll cover everything from setting up a session recording to watching session replays. Also, we will show you how you can use FullSession, a web analytics tool we are currently building that you can start testing today for free. Let's start with some basics on what session recordings and session playback are and how they work.
Session recordings help you understand user behavior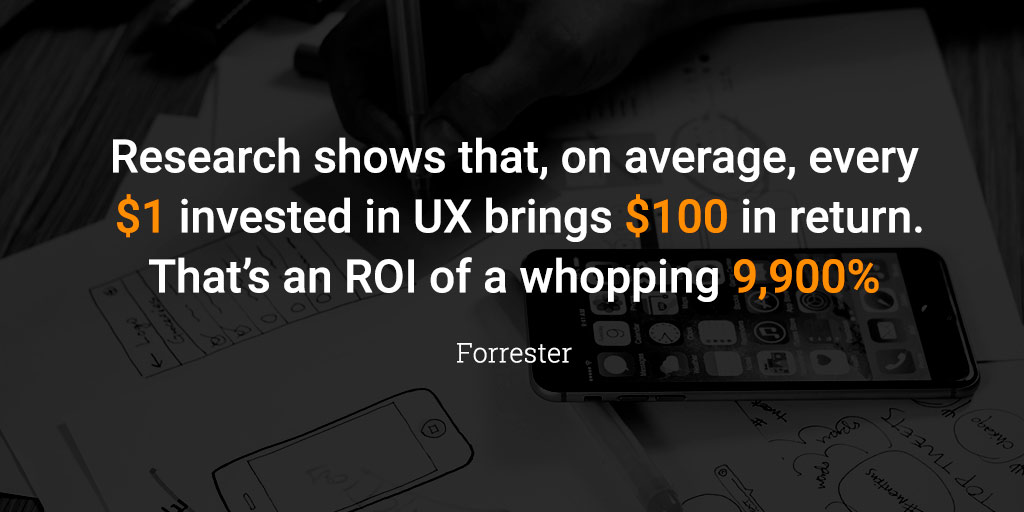 Session recordings and replays help you understand what happens on your site before, during, and after each session. They allow you to replay any part of the customer journey or user flow to see what happens when the user interacts with your site, identify any issues during interactions, and watch how users react to different website elements.
It allows you to see every click, scroll, and mouse movement on your website. This process can be done by using the browser or implementing scripts to record user sessions with cookies.
You can use collected data to see visitor actions on different screen resolutions and improve product development or marketing strategies. Session recording and replay also let you understand what users want from you. It helps you create a more engaging layout or improve website content to increase the customer experience of your future visitors.
A common misconception about session replay
A session replay presents a reconstruction of events during a user's session rather than an actual video recording of users' actions on websites, web apps, or mobile apps. It is not a substitute for capturing video and audio of your users' screens and is not the same as screen captures or videos taken by monitoring software.
A session replay enhances the website optimization process, allowing you to recreate how visitors interact with multiple pages of your website, providing you qualitative data about your users' actions. It is the main advantage of session replay tools compared to traditional web analytics tools, such as Google Analytics.
Also, the session replay tools that have advanced features allow your development team to record sessions, find users, watch recordings, segment recordings, adjust playback speed or skip inactivity. They can use these insights for bug reproduction, implementing changes, testing, and measuring the results of the improvements of your website.
The limitations of session recording and replay tools
When it comes to the session recording, there are some drawbacks you need to watch out for. Session recording tools cannot record the following:
Live video chats
Streaming sessions
The user typing on a keyboard
The user clicks outside of the recording window
The user taking screenshots
The sensitive data or private information
All off-screen activities
It's important to realize that session recording is a powerful tool, but it does have some limitations.
Session recording and users' privacy
With an overabundance of security issues online, data security becomes more important than ever. People are more concerned about hackers and security breaches than ever before, which means they're paying more attention to how businesses handle their private information.
Transparency regarding privacy disclosures is crucial to any business hoping to avoid legal consequences related to information compromise, security infringement, and cybercrime.  Always highlight how your company keeps personal information secure with the Privacy Policy and Terms of Use.
When it comes to the session recording, many benefits outweigh the risks. It's important to know what types of information you can record on websites or mobile apps to reduce the privacy risks and keep visitors happy while browsing your web pages on desktop or mobile devices.
FullSession gathers user data without invasive tracking
FullSession session recording and session replay tool, compared to other analytics tools, helps you protect users' sensitive data from privacy breaches. With these features in place, it is easy to monitor the site for any suspicious activity or intrusions.
It means that you will stay on top of your customers' activities while also protecting them from identity theft and other unauthorized access.
You can integrate FullSession into websites, web apps, or landing pages and view recordings of users' actions on screen, but you can't capture their information typed in by hand.  It doesn't have access to sensitive information, such as credit card details or login credentials.
Also, FullSession doesn't track users' activity across the Internet, and you can't use it for behavioral advertising purposes. Instead, FullSession provides a technical solution for understanding how users interact with your product.
Industries that use session recording and session replay tools
Those particularly concerned with helping customers get the most out of their website should use session recording and session replay tools such as FullSession. Session recording and replay can be used for all types of websites, but some industries use it more than others:
Marketing and advertising
Web design and development
eCommerce
B2B SaaS
Fintech
Travel
Hospitality
Retail
Financial services
Automotive
Health care
Construction
Real estate
There are many situations where session recording can be incredibly helpful for teams to learn, review, and improve their product. It provides an indispensable advantage over competitors who don't capture users' data.
Session replay boosts your team's performance
Every team, no matter how small or large, can benefit from session replay. Session recording allows your employees to immerse themselves in customer problems and find solutions for their pain points.
Session replay tools are affordable, easy to use, and boost both user retention and customer satisfaction, improving your revenue in the process. Here are the job functions that benefit the most out of session recording and session replay tools such as FullSession.
Product teams watch what happens and fix problems faster
Session recording and session replay are useful for product and UX teams for two main reasons. It helps them co-browse user sessions, understand how customers interact with their products, and identify problems that need fixing. It also helps them understand users' behavior at different stages of the customer journey.
With session replay tools, they can:
Watch recordings of  users' sessions to learn more about their experience with the product
Learn how customers interact with the product on different screen resolutions
Identify areas where they can improve your product and create more value for customers
Use insights to test and launch new product features and iterate quickly
Use collected data from previous sessions for bug reproduction
Make product changes based on user feedback
Redesign or restructure one page, landing page, page elements, or the entire website
Session recordings can be used during different development phases such as A/B testing, QA testing, and usability studies. It helps you focus on solving UX issues and make website improvements to let your online business grow.
Customer support representatives handle customer issues smarter
You can improve your customer support by recording, studying, and sharing sessions of customers using your product. Your customer support representatives can watch recorded sessions and session playback to see all user actions, from clicks and scrolls to mouse movement. It allows them to quickly find the information they need to handle customer issues and help you improve the overall customer experience.
By using session replay tools, they can:
Watch session playback to understand the customers' experience
Keep track of your users' actions and gather valuable data on customer behavior
Solve any customer issue faster
Answer customer questions more effectively
Record sessions and use them as training tools or troubleshooting guides
Improve communication with other team members while solving a customer issue
Increase teams' productivity
Improve the quality of your service
You shouldn't underestimate the value of recorded customer interactions. From gathering data to training your team to troubleshooting problems in real-time or guiding new hires through the process, session recording is an invaluable resource for any customer support professional.
Digital marketers reveal the path to success
Session recording and replay are valuable tools for marketers looking to improve the results of their marketing campaigns. They let them view users' journeys through your website and quickly pinpoint where website visitors get stuck or which part of the funnel they drop off. It helps you understand why users don't complete an action on your website and let you optimize your content to boost conversion rate.
With session recording and replay, they can:
Identify experience breakages and friction areas on the website
Reassess marketing tactics and improve marketing funnels accordingly
Get actionable data to improve digital marketing campaigns and increase ROI
Generate insights to improve conversion rate, increase engagement, or drive more revenue
Measure the performance of each customer segment to understand how it affects business goals
Run A/B testing and other experiments
See what distracts the users from clicking on CTAs
Session recording helps you organize your website into a user-friendly layout that will engage and convert users. With the help of session recording, you can create a web design that is perfectly intuitive and moves visitors through your conversion funnel with each click.
Sales representatives generate more leads
Many prospects visit your website before they contact you, so it's important to have a strong online presence. A well-designed website that matches the brand's identity and presents a wealth of information in a structured layout will convince potential customers to become paying customers, improving your sales team's efforts in the process.
By using the session replay tool, your sales representatives can:
Learn more about traffic sources and include them in the sales strategy
Learn more about prospects' interests
See what products or services grab visitors attention
Offer new sales deals based on gathered data
Understand how users interact with specific website elements
Use insights to improve sales funnel
Rewrite sales content
Filter recordings to find specific sales prospects
Your company website is the most important sales tool you have, so be sure to remove any clutter and confusion that might lead your users to leave your website or landing page entirely.
Poor website performance ruins your UX
Bad UX design and poor web performance can break a website. Session recording and session replay tools, such as FullSession, let you watch how visitors interact with your product and analyze sessions from a bird's-eye view. You can learn where your users encounter problems and easily determine what changes to implement to improve the user experience.
Some examples of bad website UX include:
A slow website with freezing problems on all web pages
Poorly designed user interface with a confusing navigation bar
Dead ends in search results
Unresponsive design on mobile devices
Too many advertisements
No contact information
Long registration forms
Missing information about products or services
Annoying pop up on single-page apps
While some of these issues might seem like small inconveniences, they can cause your website to lose visitors and impact your revenue. To avoid this, you should use session recording and replay tools to test your product before it goes live.
Change your approach with FullSession
You can use FullSession, our web analytics tool, for various purposes, including testing the effectiveness of changes made to the site, understanding why people are leaving your website or not converting as expected, and identifying which marketing tactics work best for your business.
Before you start using FullSession, discuss these topics with your team:
Identify what data you need from each visitor's session
Determine how to segment the users
Identify what metrics you need from each visitor's session
Define what is a good duration for a session recording
Agree on how you should store your recordings
When you finish your analysis, start using FullSession for session recording and replay as follows:
Record visitors' interactions
Playback the recording in real-time
Analyze visitor behavior and compare it with your original expectations
Note any discrepancies between what you expected and what you recorded
Make adjustments to web pages based on the analysis of the playback
This is just an example of what you can do with FullSession. It offers useful features to help you optimize your website performance. Continue reading how session replay tools help you improve your user experience in general and how FullSession complements your current web development process.
Six ways to optimize your website performance with session recording
With session recording and replay, you can quickly pinpoint issues with your site to resolve any user experience problems your visitors might have. Here are the six ways you can use session recording and replay for optimizing your website performance.
1. Spot bugs faster
Session recording is one of the most important tools in website optimization. It helps you identify bugs and speed up your development process by allowing you to see where things break down. Session recording is an essential tool for all developers, as it lets them focus on fixing specific problems instead of constantly debugging code throughout the entire session.
Accelerate your website development with FullSession
If you have a website, there might be some bugs there that can ruin the experience for your visitors. Maybe the navigation is messy, the checkout process isn't smooth, or the images aren't loading, a new feature doesn't work as expected, or you've noticed unexpected visitor behavior.
You can use FullSession during the development phase to improve the overall product quality and make sure everything works together in harmony to create the best user experience possible. It allows you to see where errors happen, how often they happen, and what caused them. You can solve issues by fixing code, testing features, or altering the design.
2. Convert more customers
Session recordings and replays help you improve your conversion rates and fix what's broken on your website or mobile app. You can use session replay to make sure that users are following the process properly, which means they're not leaving out important steps or making errors in the user flow. Session recording also helps fix UX problems. These issues often cause poor conversions and a bad experience for visitors who leave your site after being disappointed with it.
Your conversions are in good hands with FullSession
FullSession helps you optimize conversion rates giving you insights to reassess your marketing or sales funnels. These insights will help you improve the user flow to increase conversions and create an optimized website or a landing page design tailored to your users' needs.
FullSession allows you to identify visitors who will most likely convert into customers, increase conversions by improving their engagement with content on the page, help people find what they're looking for faster, or provide the information they previously missed.
3. Solve user interface issues
A session replay is a recording of what happened on the site, including all clicks, form submissions, scrollings, mouse movements, or any errors that may have occurred during those interactions. You can use session replay tools to identify and fix issues with the user interface or navigational difficulties.
Remove the guesswork with FullSession
When it comes to the user interface, you need a tool to fix errors and identify what went wrong. FullSession lets you access recordings in real-time, allowing you to view interactions at the time of the problem without disrupting the customer experience. You can then use your findings to create a solution that improves your UI for future customers.
4. Identify and fix customer frustration points
If a customer is not happy with your product, they will never use it again. To avoid this, you need to identify the frustration points as soon as possible and fix them before they hinder your business results. The easiest way to do so is by using a session replay tool on your landing page, website, or app.
Stop losing your customers with FullSession
FullSession helps you understand users' behavior. If you see from the session replay that many visitors get confused, drop off, or don't complete the required actions on your website, it's time to take action. FullSession will help you identify user frustration points and set up a solution to reduce these types of issues.
If users don't feel like they have enough control over their experience or if it's too difficult to use your product, they will lose interest. Session replay will let you know how to create more engaging page elements or content to keep your visitors' attention and reduce the bounce rate of your website or app.
FullSession will provide you answers to why your website metrics deteriorate and help you make improvements that will make your users stay longer on your site or keep coming back more often.
5. Detect threats and understand how they happen
The session replay tool can help you detect malicious activities. It records all activity on the browser during a user session so you can review it later. Security analysts or researchers use it to investigate potential threats in a website or app.
Investigate potential threats with FullSession
FullSession allows you to filter recorded sessions by individual users and see their flow from the entry page to the exit page. You can watch session replay from the beginning, rewind it to review a specific part of the session, or jump around to find parts that you are most interested in.
With FullSession, you can use automatic event tracking to identify any signs of suspicious user activity. It's also useful for validating that your security features work as expected. You can analyze captured data, determine the nature of the threat and take action.
6. Improve customer satisfaction
A session replay is a recording of all the interactions between a customer support agent and user, created in real-time. The session replay tool is very useful in customer service because it allows you to see what happened when a customer escalated to another level of support. The session replay tool also helps you diagnose potential issues with your customer support agents since you can review how the process unfolded.
Customers want to get more out of their interactions with your brand. If you're struggling to learn about what they need, session recordings can help you understand the nuances in customer questions better than any other method.
From frustration to resolution with FullSession
FullSession can show you how customers interact with your website and provide valuable information that is difficult for humans alone to gather through conversation-based research methods like surveys or interviews.
It helps you improve customer support by providing an opportunity for agents to better understand your customers' needs and help you provide more personalized service. Watching a replay of the session can result in better outcomes for both customer support staff and customers. It allows the company to provide more efficient resolutions since they can see what happened during each interaction.
FullSession also improves the workflow between your customer support representatives and product managers, who can use insights together to improve your product and ultimately increase customer satisfaction. It will help them close any remaining issues, provide successful resolutions and spend less time and money working on open cases.
Gain a competitive advantage with session recording and session replay tools
Capturing web experience data is one of the most important aspects of digital analytics. User sessions can provide valuable insights into how your customers are interacting with your website.
You can use session recording and replay tools to understand your visitors' needs and measure engagement, conversions, bounce rates, and more. Here are some features to look for when choosing session recording and replay tools.
1. Behavior analysis from the first session
Session recording reveals your visitors' behavior. It is an excellent way to learn more about the people who purchase your products, use your services or visit your website. You can gather data and make informed decisions related to your product design, marketing campaigns, and more.
Track and understand your visitors' actions with FullSession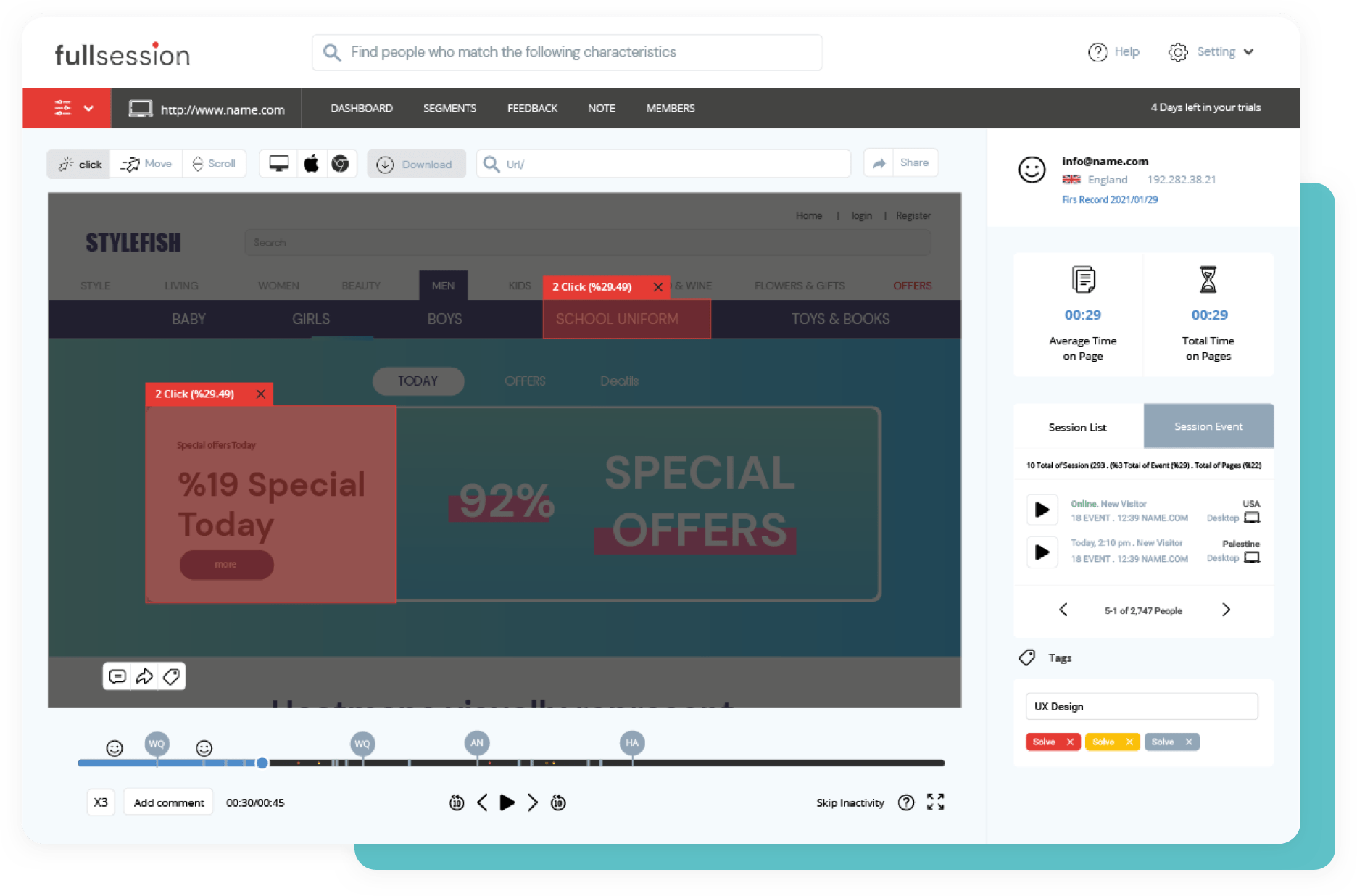 FullSession helps you understand what your users are doing and records meaningful actions such as mouse movements, scrolls, taps, left-clicks, and right-clicks while users browse your website or web app.
You can use this user behavior and activity tracking to see how much time they spend on your site and thus understand what parts of your web pages bring more value than others. You can use this information to tailor your content or layout to suit your users' needs, improve their digital experience, and optimize conversion funnels.
Also, FullSession lets you gather data on what's going on behind the scenes, and explore ways to fix any issues, bugs, or other friction points that may lead to funnel dropouts. Early detection is key to a successful digital business and it's never too late to start gathering feedback from your users.
2. Heatmaps for spotting your visitors' focusing areas
Heatmaps allow you to view your users' paths through your website and learn what's working and what's not. Heatmaps use color to show you which areas of your web pages visitors are focusing on the most.  The warmer the color, the higher the engagement is. Heatmaps complement traditional web analytics tools, such as Google Analytics, providing visual data you can use for specific purposes such as A/B testing.
Reveal what elements get visitors' attention with FullSession
Heatmaps are powerful tools for visualizing user behavior on a website, but sometimes they can be time-consuming to set up. Instead of losing time on data processing, you can view FullSession interactive heat maps in real-time. With FullSession heatmaps, you can gather insights on which elements attract users' attention the most, where most of your users are dropping off the website, and what improvements you need to make to reach your business goals.
3. Team collaboration features
Session recording filtering, tagging, and commenting are useful features that make collaboration and tracking trends in the user journey much easier for both the team and individuals. People who need to review a session replay can easily find it. They only have to filter the recordings by tagging them with specific keywords or filtering out unwanted sessions by specific parameters.
Filter, tag or annotate recordings with FullSession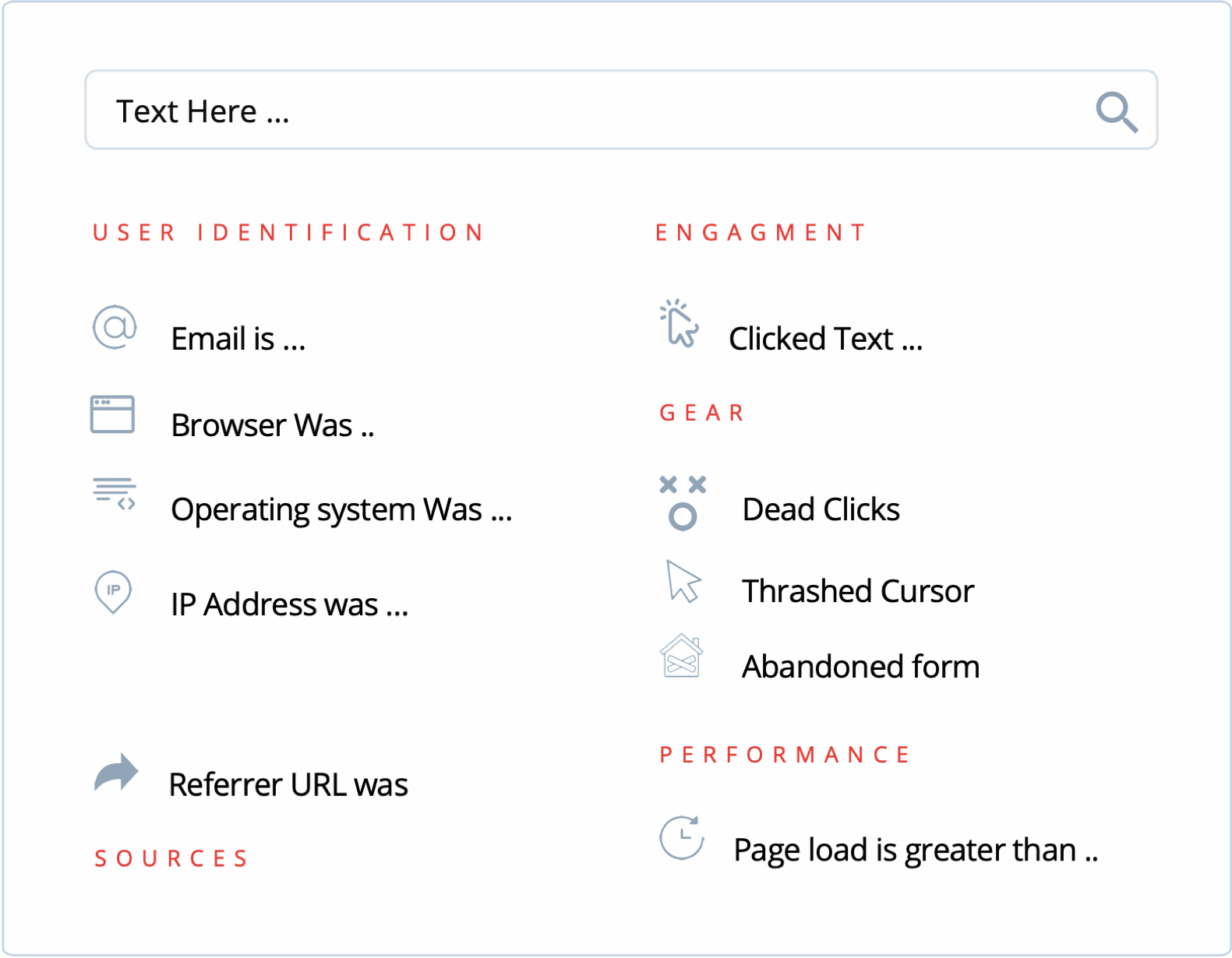 FullSession helps cross-functional teams work more effectively, finding sessions that interest them and allowing them to do more research. Web designers, marketers, UX/UI researchers, and product managers can use FullSession to filter, tag, or leave a comment on a replay of a recorded user session.
FullSession lets you see every interaction your visitors have with your website, from the beginning to the end of their visit. It's an advanced tool that helps you filter session recordings by specific times, interactions, devices, or events allowing you to get straight to what's important. It helps your employees monitor, analyze, measure, and optimize digital experiences faster.
4. Recordings search and segmentation
The session recording search and segmentation feature allow you to find the sessions relevant to your company. It helps your team find specific events during users' sessions, searching by devices, location, date range, or event types.
Session recording and session replay are useful for debugging purposes.  You can replay sessions to find errors and correct them. This feature makes it easier for companies to handle any issues or bugs that might occur without having too much time on their end.
FullSession helps you find the needle in your haystack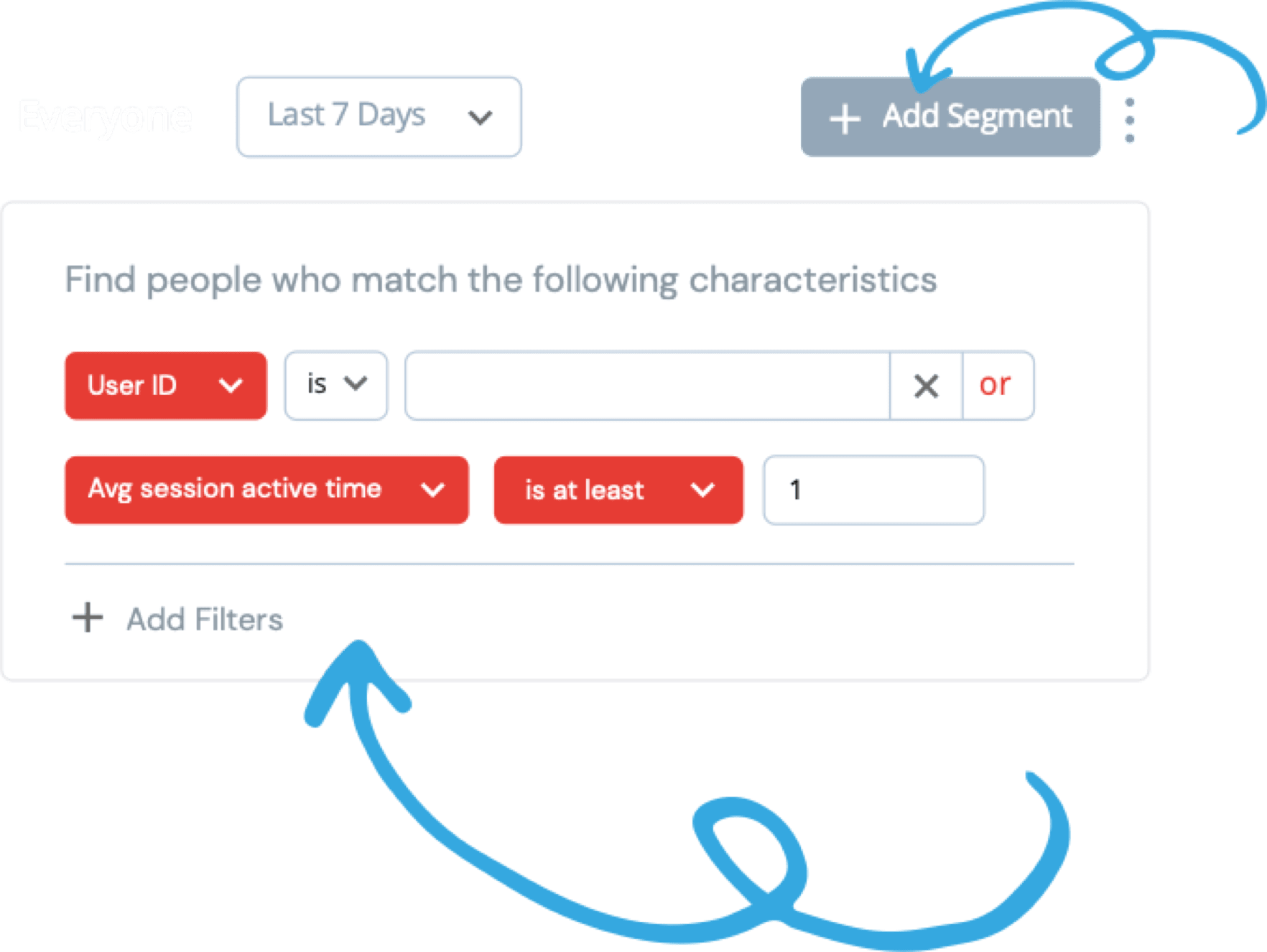 Developers can use the FullSession search and segmentation feature to eliminate the need to reproduce bugs through trial and error. FullSession helps them better understand what is happening with their application and identify major events inside a session, saving their time in the process.
Segmentation is one of the most important parts of digital engagement, and your brand must understand its users. You can use advanced filtering to create segmentation based on specific criteria, such as device type, location, browser, operating system, etc. You can use this feature to learn why your users don't convert.
5. Data sources integration
Session recording and session replay tools integrate with web analytics, customer analytics, and survey data sources,  providing a comprehensive view of users' interactions. Integrations help you optimize web pages for users more effectively and test how different layouts impact conversions. FullSession currently integrates with Shopify, Big Commerce, Wix, and WordPress.
6. Form analytics
A session recording is a snippet of time that captures all the information from a visitor's interaction with your form. With this information, you'll be able to leverage form analytics data points to launch detailed investigations and make informed decisions about how best to improve your forms.
FullSession currently provides you with form abandonment analytics to identify form fields that users have difficulty filling out or learn where users abandon the form before submitting it. Use this insight to track the user journey and understand why conversion was successful or not.
This information will help you set up better experiments in the future, ensuring that you always know where you need to make improvements.
7. Data collection and retention
If you're serious about using your data to drive your marketing and sales efforts, it's important to choose a tool that will be useful for the long term. Some tools store data for months or years, which can help you see user trends over time. Other tools store data temporarily, which is fine for small businesses that want to try out different strategies but don't need long-term tracking.
The more data you have, the easier it is to make reliable data-driven decisions. Data tools are useful for businesses at every stage of the digital journey. Data-driven businesses not only use data to improve business performance, but they also use data to improve customer experience, better understand consumer behavior, and increase revenues.
How FullSession works
FullSession will take care that your data is available as long as you need it. We offer you the flexibility to choose a pricing plan based on your needs. If you choose the Basic and Starter plans, we will retain your data for three months. If you choose the Growth and Business plans, we will retain your data for up to six months.
8. Site speed or performance
Session replay typically uses one of two methods for storing data: it either saves all data collected, or it samples only the data that's most relevant to you. The first method requires lots of storage space, which may impact your site speed and performance. It's important to understand what your goals are before you choose your tool, otherwise, you might end up compromising your website.
While tools such as Hotjar decrease your website's load time, FullSession can capture user data and get insights efficiently without slowing down your website or affecting the performance of your site.
9. Pricing plans
When you're looking for a session recording and session replay tool, it's important to keep in mind that there are different variables that will affect the price. The most important factors are the number of sessions you want to record each month, the number of team members who will get access to the recordings, how many of your sessions you would like to be able to replay, and similar.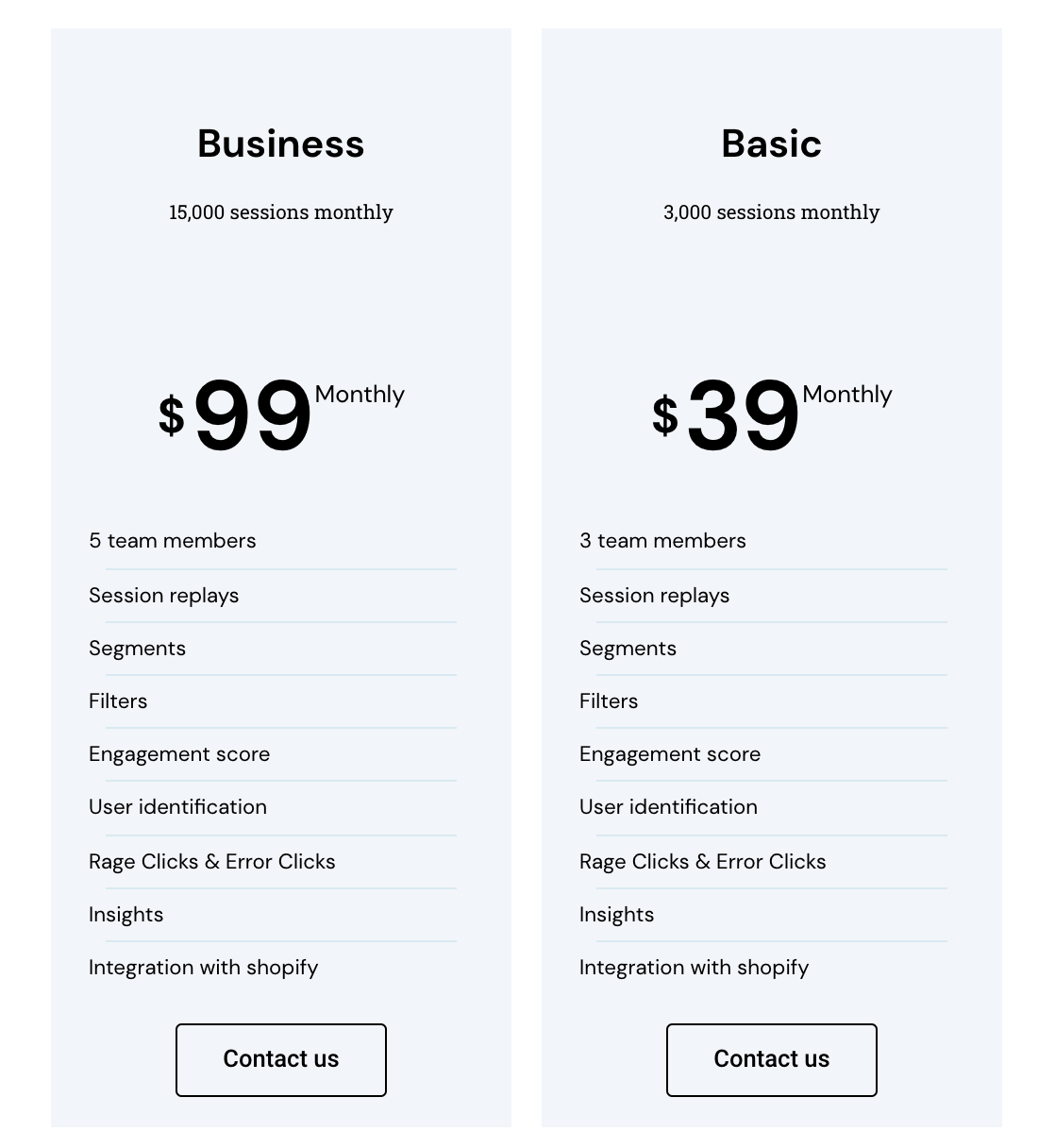 If you want to start testing FullSession, there is a free plan that gives you the opportunity to learn about all the features we offer. From there, you can choose one of our five plans:
The Basic plan lets you record 3,000 sessions for $39/month
The Business plan lets you record 15,000 sessions for $99/month
Get the most out of session replay
Now that you know what session replay tools are and what they can do for your business, let's go over some best practices to help you get the most out of them.
Use segmentation to focus on key sessions
Analyze the timestamps of valuable sessions
Add notes to session replays to stay organized
Investigate the most common problems with bug reports
Identify areas where friction happens in your marketing and sales funnels
Use heatmaps to find visitor behavior patterns
Create alerts to spot unusual changes in website performance
Technology is changing online businesses, and you can use it to do amazing things for your customers. Now, you can access session replay tools that bring an immediate understanding of your customer's needs and preferences. Use these tools to tailor the best possible experiences for them.
Other popular user session recording tools on the market
If you are looking for session replay tools for your website, you have come to the right place. We've done the research for you, by analyzing the top vendors for session recording besides our FullSession solution. Continue reading and learn more about them.
Microsoft Clarity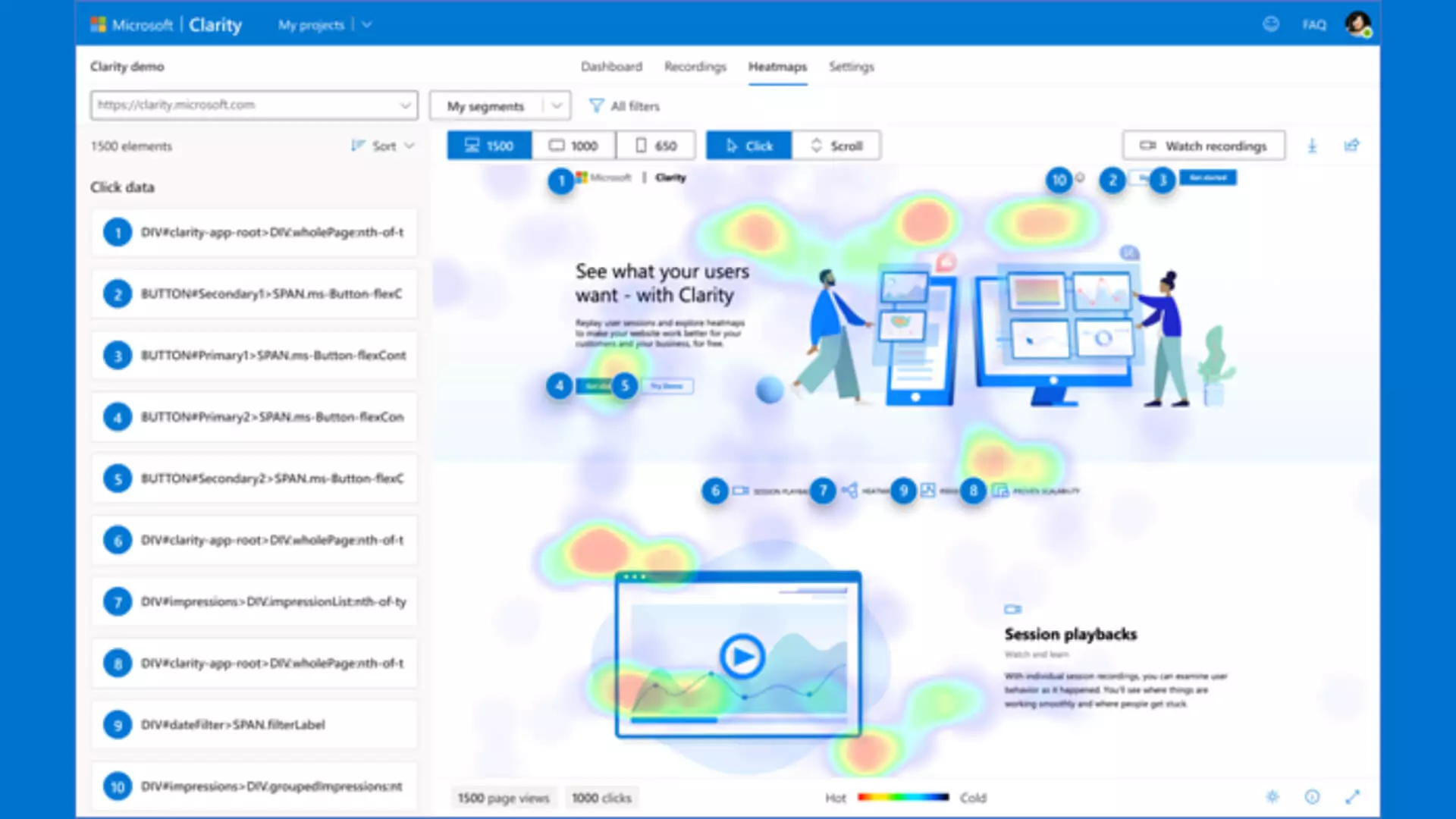 Microsoft Clarity helps you see how people use your site. It makes it easy to identify problems and opportunities and to test new ideas. It is GDPR compliant and built on an open-source basis.
Features
Microsoft Clarity allows you to record visitor behavior on your site. It provides rich data for improving your site, like mouse tracking, clicks, and scrolls monitoring.
Recordings are available for most sessions and usually appear 30 minutes after the start of the session, but they may take up to 2 hours to process. For page URLs that you don't want to track, remove the Microsoft Clarity code.
With Microsoft Clarity, you can:
See how your visitors use your product
Save recordings as favorites to watch later
Playback or pause recordings to dive into details
Search, filter, or segment recordings by specific attributes
Identify users' pain points
Explore potential issues that damage users experience
Share recordings with your team or clients
Connect account with Google Analytics
Block internal traffic from recordings
Pricing
Microsoft Clarity offers you a forever-free plan that includes unlimited traffic, heatmaps, websites, and employees. You don't have to upgrade to a paid version.
Inspectlet
Inspectlet offers automatic event tracking and reveals the exact steps people take on your site. You can set up conversion funnels to make personalized site experiences for your customers, gather data on mouse movement, scrolls, and clicks, and see how visitors move around throughout your site.
Whether you're a marketer, a designer, or an agency, Inspectlet helps you make sense of customer behavior and user experience. You'll be able to see what they do, where they stop, and what elements lead them to convert.
Features
With the help of Inspectlet, you can gain a better understanding of your customers' perspectives. With Inspectlet, you can:
Watch users record and monitor their behavior
Capture users actions with screenshots
Use targeted tracking
Filter recordings to find ones that you're most interested in
Tag users and sessions with specific labels
Run A/B testing
Get form analytics and track form metrics
Monitor site or app for any issues such as javascript errors
Pricing
Inspectlet has five pricing plans, and each plan includes different sets of features:
Micro for $39 per month includes 10,000 sessions per month
Startup for $79 per month includes 25,000 sessions per month
Growth for $149 per month includes 50,000 sessions per month
Accelerate for $299 per month includes 125,000 sessions per month
Enterprise for $499 per month includes 250,000 sessions per month
If you want to test the tool, you can choose a free plan that lets you record 2,500 sessions per month for only one website you choose. The free plan also includes session playbacks.
Hotjar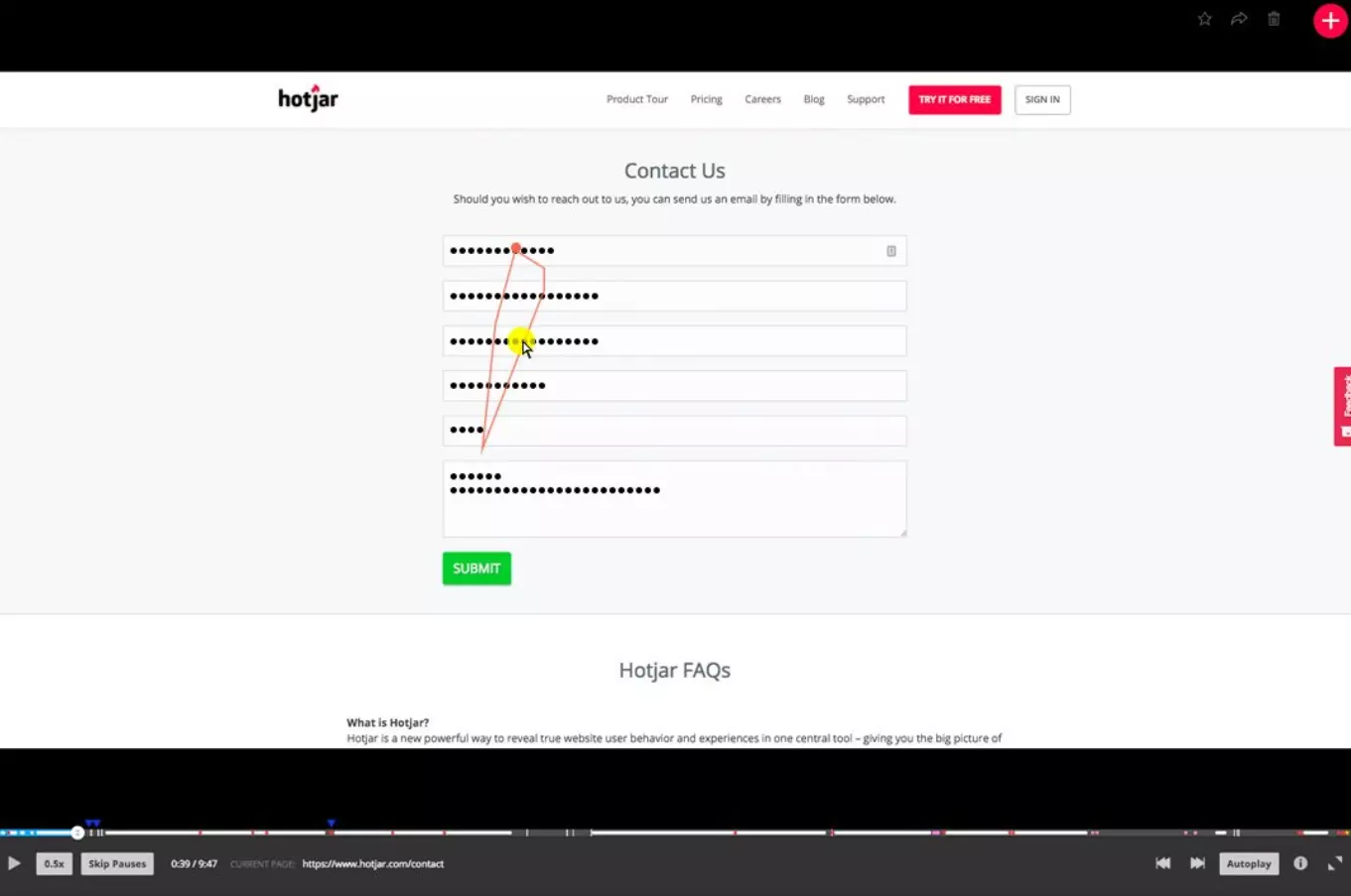 Hotjar helps you understand how visitors use your website. With Hotjar, you can improve the user experience, conversion rates and increase sales. With session recordings, surveys, polls, and visitor recording features, Hotjar helps you reach more customers and meet your business goals.
Features
Hotjar helps you make data-driven decisions on how to improve your online presence. Here is the list of Hotjar features:
Heatmaps to track mouse movements, scrolls, and clicks
Session recording to identify usability issues
Session replay tools that help you pinpoint specific issues during a users session
Conversion funnel optimization to improve conversion rate
Form analytics to see how your leads interact with your forms
User feedback polls
Incoming feedback to let users share their opinion in real-time
Surveys to ask questions and get the information you need
Usability testing recruitment
Pricing
Hotjar offers you free and paid monthly plans. If you want to start with a free plan, you will get up to 1,050 recordings/month. If you decide to use the paid plans, you can use:
Plus package for small teams, starting at $39/month. It includes up to 3,000 recordings/month.
Business package for growing companies, starting at $99/month. It includes the recording of up to 2,500 daily sessions.
Scale package for large companies, starting at $389/month. It includes the recording of 4,000+ daily sessions
Lucky Orange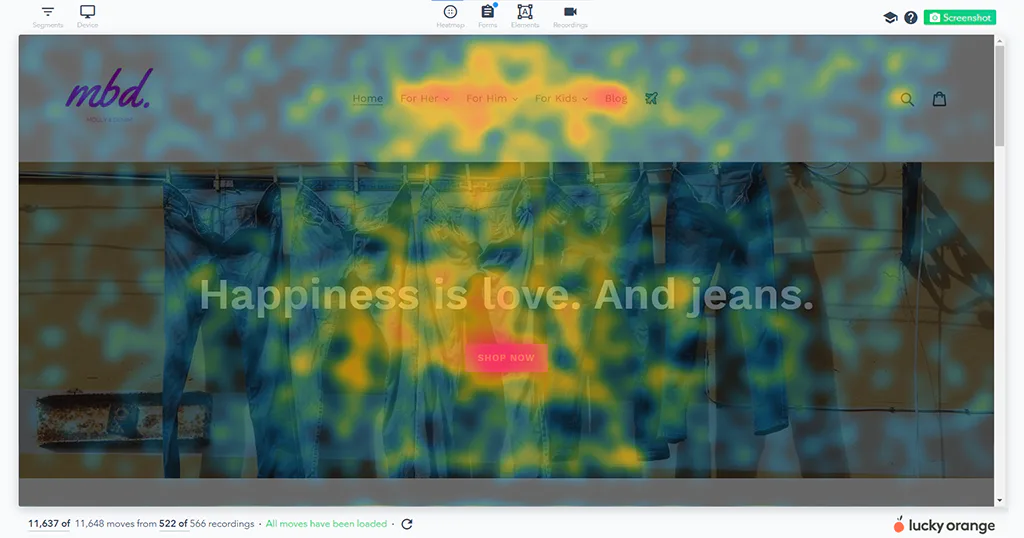 Lucky Orange has a user-friendly interface that lets you capture user actions through screen recording or session replay. You can easily identify UX problems that appear on-screen and fix them before they drag the performance of your final product down. It's a good solution for UX designers, product managers, market researchers, digital marketers, and anyone who wants to gather more insights about their customer's behavior.
Features
Lucky Orange helps you improve your site's performance. It provides data to back up decisions for creating more effective web performance strategies. Here is what you get with Lucky Orange:
Session recording and session replay
Live Chat for customer support
Conversion funnel optimization
Detailed visitor profiles
Recordings history
Announcement sharing
Announcement placement options and intelligent triggers
Dynamic heatmaps
Unlimited and customizable dashboards
Form analytics
Fully customizable surveys with a pre-launch preview
Pricing
If you're interested in Lucky Orange, you can use the free plan with unlimited recordings and heatmap data for 30 days. Paid plans include free trials, unlimited recordings, and heatmap data but differ in the number of websites you can add. Each plan also includes a defined number of member seats and page views per month.
Starter package starts at $10/month
Small Business package starts at $20/month
Medium package starts at $50/month
Large package starts at $100/month
Enterprise package lets you create a  custom plan based on your needs
Mixpanel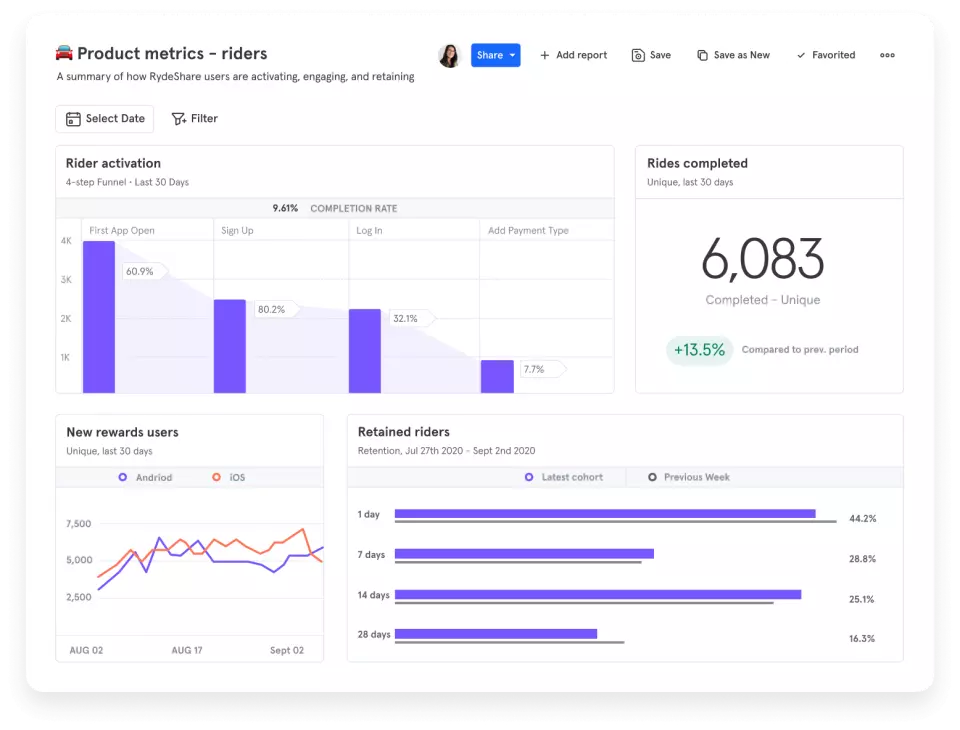 Mixpanel is a valuable analytics tool that everyone can use. It requires no coding skills, and you can easily integrate it with your website. Mixpanel allows you to track user activity and collect data from your website or mobile app in real-time to optimize your product performance.
Features
With MixPanel, you can measure how your visitors interact with your website based on over 70 different metrics. It helps you optimize your online presence and make it more effective by constantly collecting and analyzing data. Here is the shortlist of Mixpanel features.
User behavioral analytics and interactive reports
Custom dashboards
Custom alerts for change in metrics
Result sharing among teams
Advanced session recording and session replay segmentation options
Marketing and sales funnels monitoring
Data integration and management
Data privacy and transfer regulations
Pricing
Mixpanel currently offers three plans:
A free plan that lets you track up to 100,000 users per month
The Growth plan starts at $25/month that lets you define the number of users you want to track
The Enterprise plan offers custom plans and pricing based on your needs
FullStory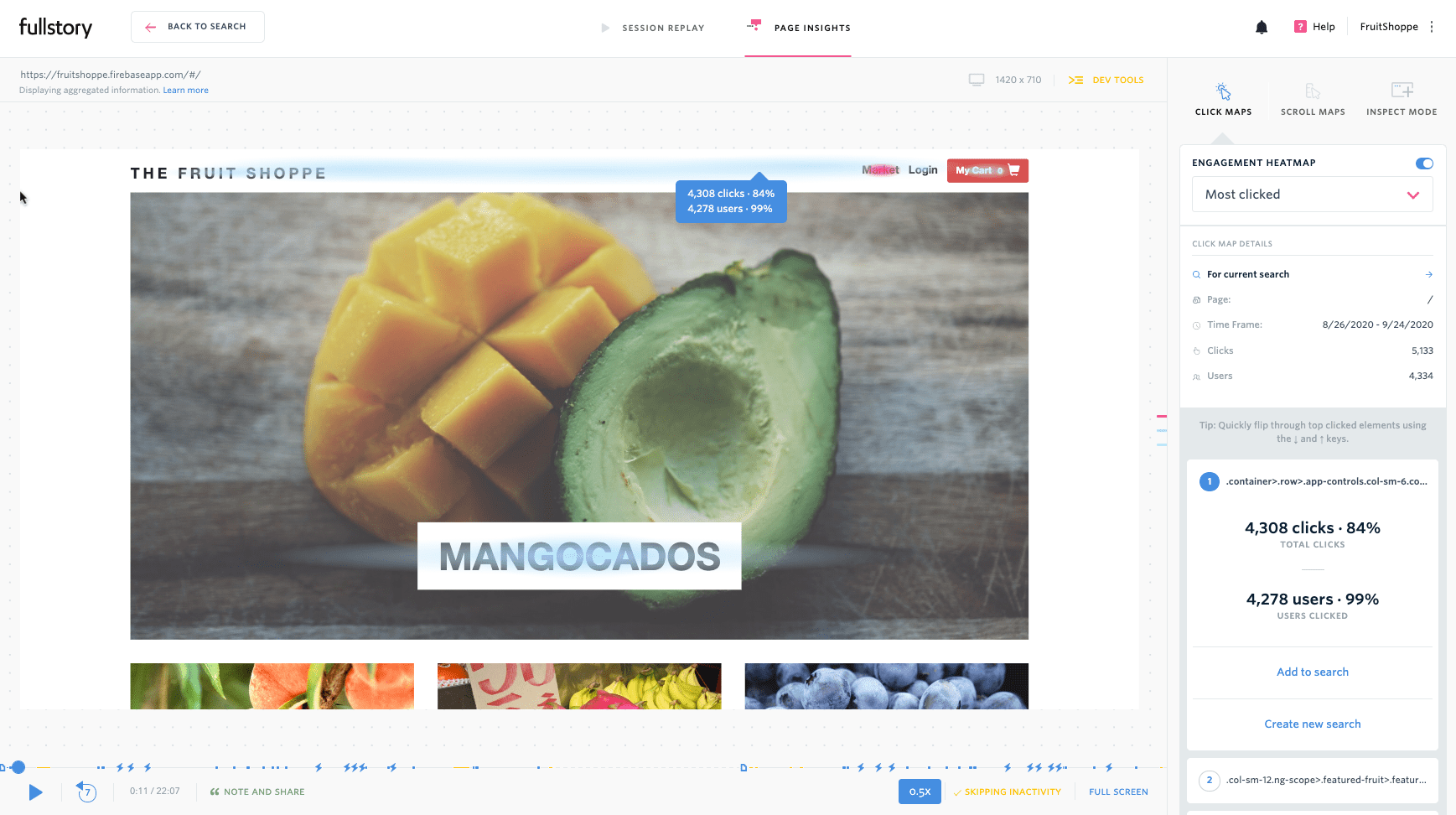 FullStory captures both quantitative and qualitative data to let you drive digital transformation and growth. You can integrate FullStory with your existing tech stack. It allows you to record and replay sessions as they happen, dive into the deep details of each interaction, and discover moments that will transform your understanding of your customers' needs.
Features
With FullStory, you can see what people did while using your product. It records everything from clicks and mouse movements to scroll behavior. Here is the list of FullStory features.
Advanced record and session replay options
Skip inactivity feature
Users and sessions filtering
Developers tools and bug reports
Conversion funnel optimization
Click and scroll heatmaps
Team collaboration tools
Privacy control features
Out-of-the-box implementation with JavaScript frameworks
Pricing
FullStory currently offers three plans. While there is some basic information about each plan, the FullStory team doesn't mention the prices. You can choose a free plan that lets you record 1,000 sessions per month and keeps your data for 30 days. Other plans include the Business plan with a 14-day free trial and the Enterprise plan that offers custom pricing.
Session replay tools short overview
The comparison chart below shows you the key differentiators of each product, making it easy for you to make an informed decision and choose a session replay solution that best fits your needs.
FullSession

Microsoft Clarity

Inspectlet

Hotjar

Lucky Orange

Mixpanel

FullStory

User reviews

N/A

4.7 out of 5 on Capterra

4.0 out of 5 on Capterra

4.7 out of 5 on Capterra

4.6 out of 5 on Capterra

4.5 out of 5 on Capterra

4.6 out of 5 on Capterra

Deployment

Cloud, SaaS, Web-Based

Cloud, SaaS, Web-Based

Cloud, SaaS, Web-Based

Desktop – Mac, Windows, Linux

Cloud, SaaS, Web-Based

Mobile – Android, iPhone

Cloud, SaaS, Web-Based

Cloud, SaaS, Web-Based

Mobile – Android, iPhone, iPad

Cloud, SaaS, Web-Based

Support

Guides, Email

Helpdesk, Knowledge base, FAQ, Email support

Email, FAQs,Knowledge Base, Phone Support, Chat

Email, FAQs, Knowledge Base, Chat

Email, FAQs, Knowledge Base, Phone Support, Chat

Email, FAQs, Knowledge Base, Phone Support, Chat

Email, FAQs, Knowledge Base, Phone Support, Chat

Free plan

Yes

Yes

Yes

Yes

Yes

Yes

Yes

Pricing

Starts at $39

Free

Starts at $39

Starts at $39

Starts at $10

Starts at $25

N/A
Start with session recording today
Session recording and replay provide you the opportunity to use real data and make impactful changes to your product. You can use it for a wide range of purposes, such as improving your website's conversion rate or identifying a customer segment that is performing poorly. With session recording, you can also evaluate your users' journey, and improve your site's elements, layout and content.
The benefits of using session recording are numerous, and the most important is putting yourself in your users' shoes. By doing this, you can better understand your customers and provide them with an improved user experience.
You can start with session recording today just by signing up for FullSession free plan. There are no hidden costs, upfront costs, or time limitations. Also, you don't need to add your credit card information to start using the service.
The four frequently asked questions about session recording
The internet is filled with thousands of articles and videos about the topics you're researching, but it's hard to find the right information. Don't waste your time reading through them all—we've already done that for you. You can read all answers to your questions below.
How do I start a session recording?
We will take our FullSession as an example because it consists of six easy steps.
Create your free account.
Add your first and last name.
Place the URL of your website or web app in the field
Choose where you want to install FullSession and get your Recording code or User ID code.
Verify installation.
Invite your team.
That was easy, and it will take you only a few minutes to start with session recording.
Why is a session recording important?
Session recording is qualitative research that allows you to identify usability issues and problems on your website. Session recording is one of the newest methods for performing this type of testing.
Unlike traditional methods, session recording is done in real-time, without disrupting your users, making it perfect for understanding how people interact with your site.
It gives you a more detailed look into the user experience than a survey or focus group would provide. It's a fantastic way to solve problems and save time and money on development by understanding your customers' needs.
Session recording can provide a holistic view of what's going on on your website, web app, or mobile app while providing rich data that you can use to make improvements over time.
Are session recordings legal?
These types of software enable recording of your visitors' actions. It collects information about each visitor that visits your website, including their IP addresses, referring sites, and activity on the site.
Session recording tools are legal under GDPR if they obtain consent from customers. However, you need to make sure your customers understand what these tools do and how they use their data.
A service provider must obtain your consent ahead of time by informing you about the information they collect and how they will use it. They should also tell you about the types of entities with whom they share that data.
How do I record website visitors?
If you want to know what your users are doing on your website and see their clicks, scrolls, and mouse movements, you should start using a session replay tool such as FullSession. We currently offer a free plan to let you test all available features and see if our tool is a good fit for your business. You can start using FullSession today by creating your free trail account.