If you want to improve your website's performance, you need accurate website visitors' data. Website visitor tracking has become an integral part of modern product and marketing strategies, providing brands an in-depth knowledge of their customers.
With website visitor tracking tools, you can learn more about visitor behavior to improve user experience, increase conversion rates, decrease bounce rates, and improve the overall product performance. Also, you can measure website traffic to benchmark against competitors.
In this blog post, we will cover the top five web visitor tracking tools. We have sorted them into free and paid options to help you find the right solution for your website. You can start with FullSession, our web analytics tool, to build a seamless digital customer experience. All you need is to read this article carefully and start your 14-day free trial.
What is website visitor tracking?
Website visitor tracking is the process of tracking and recording user behavior. To track visitors, you need to install a tracking code on your website, which sends information about the site visitors to a third-party tool that collects statistical data and provides reporting.
This tracking data can include the website visitors' IP addresses, browser types, pages they have visited, and their overall behavior while browsing your website.
Why is website visitor tracking important?
With heatmaps, session recordings and replays, funnel analytics, and user feedback, you can dive deep into your customer journeys and make data-driven improvements to your product. These tools can help you optimize your development or marketing efforts, improve your sales efforts, increase website traffic, optimize your sales funnel, or generate higher-quality leads.
Also, with a website tracking tool, you can:
Analyze user traffic and identify your most profitable customers

Reveal which aspects of your website are causing customers to convert

Focus on the products or services pages that are most likely to sell

Evaluate and revise your sales and marketing strategy according to key data

Track the number of visitors and the time and duration spent on your pages

Determine how visitors find your site and which keywords they use

Know if users further research your products or services
You can track anonymous web visitors through activities like page views, clicks, and shares to see who's coming to your site, what content they're reading, and how they're using it to improve their businesses.
Website analytics helps you understand what works well on your website and what needs improvement. You will gain the knowledge to change web elements, layout, or content to maximize the return from your development or advertising budget.
How do website visitor tracking and web analytics differ?
You might want to use conventional web analytics tools to track your website visitors. However, these tools rely on the raw data that software collects.
Website visitor tracking tools rely on the information your visitors provide. It helps you understand how they interact with your site by looking at what they do, not just what pages they visited.
Website visitor data is also much more granular than data gathered through traditional web analytics tools because you can track website visitors through the entire conversion funnel. It allows you to pinpoint specific problems during their journey and fix them in real-time.
What website visitor activity should you track?
You need to monitor every aspect of your customer journey, from their initial interest in your brand to their eventual decision to make a purchase or use your services. If you want to create an optimal user journey, the one that ensures a high chance of conversion, you need to learn where users they drop off in your sales funnel.
Website visitor sources
Visitor sources can give you essential insights into how customers find and use your website. It helps you analyze the effectiveness of your marketing campaigns. Tracking traffic gives you a better idea of how to reach people who may be interested in your product or service, allowing you to focus your marketing efforts on the right channels.
Website visitor navigation
To keep customers happy and increase the time spent on your website, you should make your website navigation as easy as possible. For example, you can check if there is any sign of a bottleneck, such as hard-to-find payment options or an error on the checkout page that is driving users away.
With heatmaps, you can find areas on your site which are getting high attention levels. You can use this data to determine where to add new content or alter the existing layout and make sure people aren't getting lost during their journey. The more you learn about your users, the more tailored your product or service becomes.
Website visitor bounce rates
Bounce rates help you measure how likely a person who visits your website is willing to return in the future. Tracking analytics data can show you whether or not people have visited your site before, what they were searching for, and whether or not they were satisfied with their experience.
Website visitor conversion rates
Conversion rates help you track the percentage of website visitors who take the desired action on your website. Some examples are signing up for an email list, completing a purchase, or downloading content.
The number of website visitors that turn into customers is a key metric that informs your company's marketing or development strategies. It can tell you what actions are most popular and lead to more sales, qualified leads, or subscribers.
Is website visitor tracking GDPR compliant?
It depends on your website tracking strategy. If you collect the personal information of your website visitors and you haven't already made changes to your privacy policy, it's time to check in with your team and see what steps you need to take to make your site GDPR compliant.
Transparency with customer information is important. When you tell your users why you're collecting their data and how you plan to use it, they'll appreciate it and more likely stay on your site.
If you don't collect any contact information for visitor identification, such as name, address, or phone number, your website is GDPR compliant. It is because you are not storing customer information for future use.
Who can use website visitor tracking tools?
It's no surprise that marketing and product teams, sales teams, UX designers, and UX researchers use website visitor tracking tools as a part of their work process. Let's see how they benefit from web visitor tracking.
Product developers
Product teams can use website visitor tracking to create a customer-centric product roadmap. They can identify areas for improvement and create more value for customers. Also, they can test and launch new features quickly and iterate based on user feedback. With website tracking, they can build products your customers love and provide you with a competitive advantage in the market. 
Content creators
Website content creators can use website visitor tracking tools to learn about your visitors, what they're looking for and what keeps them coming back for more. These tools can help them make smarter decisions about web content creation and write more effective, engaging, and enjoyable content by identifying patterns in user behavior. 
Digital marketing professionals
Digital marketers use website tracking tools for A/B testing. This strategy reveals users interactions and involves removing a small portion of your site visitors to show them a different version of your site. It enables the marketing team to determine which small changes on your website will improve conversions.
Sales representatives
The sales reps can use website visitor tracking for various purposes. It helps them learn more about prospects' interests and understand what products or services grab their attention. They will learn how to increase sales leads and offer new sales deals to existing customers. Finally, website visitor tracking will enable them to close sales more efficiently.
Quality assurance reps
Website visitor tracking helps quality assurance reps make the site's success rates at their highest point possible. They can identify website issues such as visitors' drop-offs, low interaction with page elements, and solve causes of users' dissatisfaction.
Customer service reps
Customer service reps have to deal with more complex issues than ever before. Sometimes bugs and errors happen on different devices, browsers, and operating systems, negatively affecting the user experience. With a website visitor tracking tool, customer service reps can see every issue, solve problems quickly and increase customer satisfaction.
What are the benefits of website visitor tracking?
Now that you know more about user behavior analytics, it's time we get to the main point – how it can improve your online business. We've covered a lot of ground, and there's more than enough information on this topic to fill a book, but here is some core benefits user behavioral analytics brings:
It provides you with a deeper understanding of users visiting your website.

You can see the behavior of repeat visitors and identify their preferences.

You can deliver a personalized shopping experience to individual visitors.

It improves your product development, marketing campaigns, marketing messages, lead generation, and sales process.

You can find previously hidden trends and opportunities.

It improves your SEO efforts by providing valuable data to search engines on what pages users visit the most and provide the best user experience.

Data collection, analysis, and reporting allow you to innovate beyond your competitors.
Website visitor tracking is important for running a successful business and knowing where to focus your time and resources. The fact is that there are so many benefits to using website analytics tools that it's really up to you to decide whether or not you're going to take advantage of them.
Are there any drawbacks to using software for website visitor tracking?
When you're choosing a website visitor tracking tool, it's always best to understand the full package. Some tools will give you everything you need, while others won't. Here are some drawbacks of website tracking:
Expensive tools can be a waste of money if you're not sure how they will work for your business.

A tool's high up-front cost can often lead to a low return on investment.

Tools with a high learning curve can be time-consuming.

Some web analytics tools are not GDPR compliant, meaning they invade user privacy.

In case of any issues with the software, you might need internal or external support.

You can't use website visitor tracking for mobile apps.
Despite these drawbacks, website visitor tracking is still a valuable tool for understanding how people interact with your website. And the good news is that there are plenty of both free and paid tools available to help you out.
What features should website visitor tracking software include?
Understanding how your site visitors interact with every page is crucial to increasing conversion rates. Heat maps, scroll maps, click maps, session recordings, and user feedback are tools that help you see what users are doing and what they're interested in.
Heatmaps
Heatmaps provide a visual representation of users' interaction with your website, web app, or landing page. This tool tracks the users' mouse movements and gives you insight into which page elements garner users' attention the most and which page elements they ignore.
Scroll maps
Scroll maps track how far visitors scroll down on a page or section of your website. You can use this information to create more engaging content that encourages readers to stay longer on your site. When combined with heatmaps, scroll maps provide valuable insights into the effectiveness of your web pages.
Click maps
Click maps let you track website visitors as they move around your website. With this insight, you can spot places with low engagement and optimize them to draw more clicks so that customers are more likely to find what they need. By tracking where your users click, you can see where they have problems navigating or what pages they find most valuable.
Session recordings
Session recordings can be an excellent way to see how customers use your site. You can watch website visitors' interactions in real-time, determine what website elements are popular or engaging, as well as which website areas cause users' frustration. You can see what they click on, where they go, and how they navigate the site.
User feedback
Sometimes you need to hear what users think about their experience. With user feedback, you'll get insightful, honest thoughts on your product features, tweaks you should implement or avoid, positive and negative points, and what you should do to improve your product.
With a better understanding of website tracking and the impact your site's performance has on your business, you can make smart choices on where to focus your time and money. Let's dive into visitor tracking software that helps you achieve your business goals.
The best website visitor tracking software (paid)
There are many website visitors tracking solutions on the market, and each has its benefits. The three featured solutions below offer various options to help you achieve your specific business objectives. Continue reading to learn more.
FullSession
FullSession visitor tracking software gives you the tools you need to make meaningful changes to your website. With advanced reporting and instant access to granular data, you'll be able to identify your customers' issues and see what is affecting your online business performance.
FullSession users
FullSession is ideal for cross-functional teams, including sales and marketing teams, product teams, and UX research teams. With FullSession, these teams can seamlessly collaborate and have a smooth and productive workflow. Also, it is popular in the eCommerce industry.
FullSession features
FullSession allows you to make smarter business decisions. You can monitor your website visits, identify strengths and weaknesses and convert more visitors into paying customers. With FullSession, you get the following features:
Session recordings

Session replays

Advanced user filtering

Advanced segmentation

Digital engagement monitoring

Advanced user analytics

Real-time and interactive heatmaps

User feedback polls
If you want to make sure your website is performing well and attracting people, then FullSession is the right tool for your business.
FullSession support
If you have any issues with FullSession, you can start a live chat or send an email. The FullSession team is always there to help you, whether it's a question about product usage or some other issue. You can also check out FullSession help center or read guides for detailed instructions.
FullSession pricing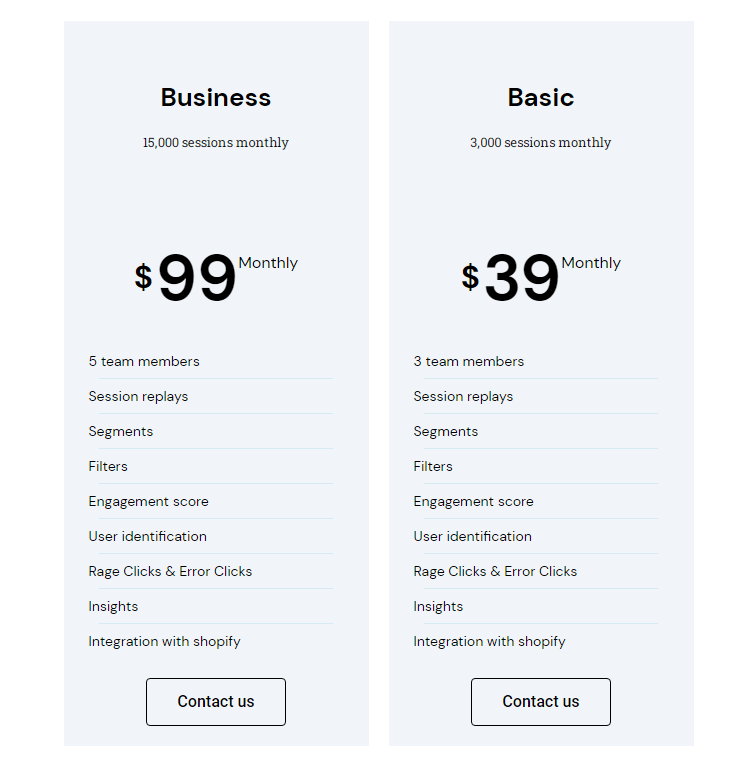 Start your FullSession free trial today, and test all currently available features. Experience our full product offering for 14 days, or choose one of our paid plans:
The Basic plan lets you invite up to three team members and record 3,000 sessions for $39/month

The Business plan lets invite up to five team members and record 15,000 sessions for $99/month
Furthermore, we can create a custom offer that includes a custom number of sessions, custom invoicing, priority support, and dedicated onboarding. Contact us today for more information.
FullSession pros
Broader analytics tools for visitor behavior and friction points analysis

Comprehensive analysis of issues that may lead to funnel dropouts

Advanced filtering options to better understand visitors digital experience

Identification of major events inside a session that saves time and gives you focus

Behavior and activity tracking to optimize conversion rates
FullSession cons
Currently, FullSession does not have heatmaps. They will be released next year.

It is possible to monitor the mobile version of your website with FullSession, but you can't use it for mobile app analytics.

FullSession doesn't provide advanced form analytics yet
Kissmetrics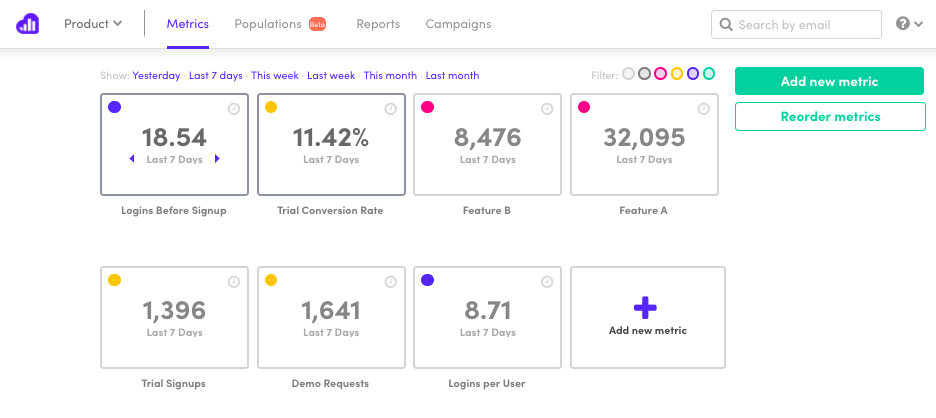 Image source: businessintelligencemarket.com
Kissmetrics lets you dive deep into your customers' behavior, simplify data, and pinpoint reasons for users' actions. You can recognize hidden patterns and understand your product performance.
When you work with Kissmetrics, you can track metrics such as unique users, number of new leads, user engagement, or conversions. Kissmetrics is a good option for any company that wants to find out why customers don't buy their products, purchase less frequently, or abandon their shopping carts. 
Kissmetrics reviews
Kissmetrics has a score of 8.1 out of 10 on TrustRadius, based on 95 reviews. The reviewers say customer support is the best thing Kissmetrics has to offer and rewarded it with a score of 9 out of 10.
Kissmetrics users
Whether you're in SaaS or eCommerce industry, working in a product or marketing team, Kissmetrics helps you optimize your marketing and sales funnels, increase conversions, and boost customer lifetime value.
Kissmetrics features
Kissmetrics helps you know who your users are and what they do. You can understand your audience, see how people interact with your website during each visit, and track customer behavior — before and after the conversion. Here is the list of Kissmetrics features:
Dashboard

Populations

Activity report

Funnel report

People search

Path report by channel and marketing campaigns

A/B test report

Revenue report

Cohort report

Power report with data segmentation

SQL report
Kissmetrics support
If you have any issue with Kissmetrics, you can visit their help center, knowledge base, start a live chat or send them an email.
Kissmetrics pricing
One of the main differences between Kissmetrics and its competitors is that it offers annual subscriptions only. Unlike its competitors, Kissmetrics does not offer a free trial. You can request to see a free demo of the software before you subscribe to one of three paid plans.
Also, Kissmetrics comes with some limitations in terms of the number of users you can monitor, the number of available user seats, and the number of domains you can track:
The Silver plan lets you track 10,000 monthly users, use up to 3 user seats and track only one domain for $299 per month, billed annually.

The Gold plan lets you track 25,000 monthly users, use up to 10 user seats and track only three domains for $499 per month, billed annually.

The Platinum plan lets you make your custom combination of tracked users, seats, and domains, billed annually.
Kissmetrics pros
Kissmetrics has a single user ID and automatically links all of the users' activity across browsers and devices while building smarter and more precise profiles based on their behavior.

You can track multiple marketing or sales channels at the same time and see the results of your efforts in real-time.

It integrates with the most important third-party tools, including Marketo, Shopify, Facebook, Slack, and more.
Kissmetrics cons
It doesn't offer behavior analytics tools such as session recordings and heatmaps

It has a high learning curve

It lacks a reports customization feature

If you need to upgrade your account, it can become expensive

Data visualization should be improved

Sometimes the documentation for users can be confusing
Hotjar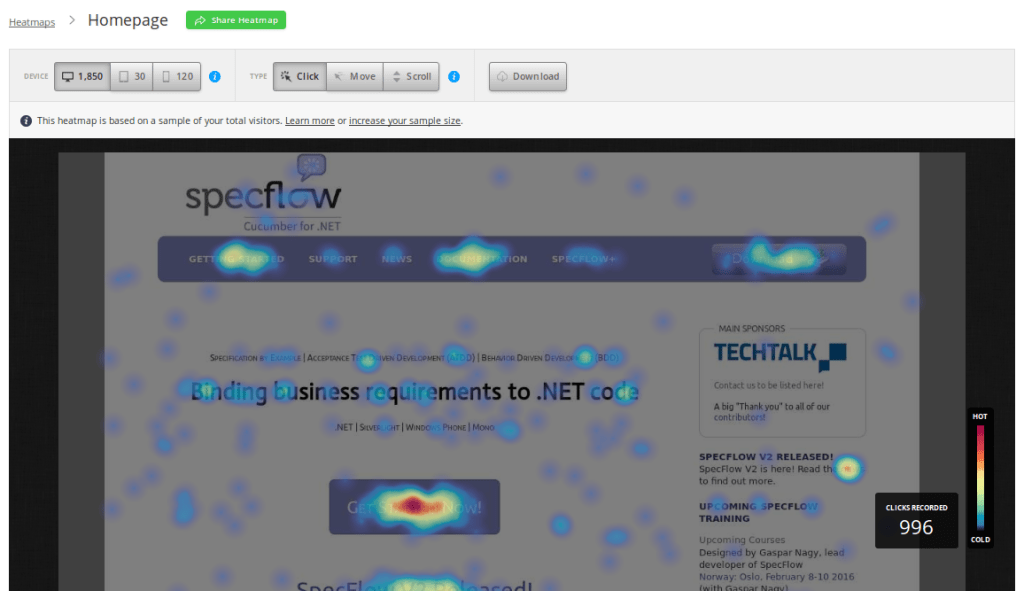 Image source: freshvanroot.com
Hotjar is a web-based analytics tool that helps you collect data about visitors' engagement with your website and identify any usability issues. Hotjar will help you discover what your users think about your website or landing page and find out what's keeping them from signing up for your service or buying your products.
Hotjar reviews
With an 8.7 score out of 10, Hotjar has earned one of the highest overall satisfaction ratings on TrustRadius. Customer reviewers rate usability and support as their favorite features, with a score of 9.5.
Hotjar users
Hotjar helps product managers, product designers, and UX researchers at small and mid-sized businesses gain more knowledge on how their users interact with their websites. Also, turning a startup into a growing business is easier with this tool.
Hotjar features
With features like heatmaps and visitor recordings, businesses of all sizes can use Hotjar to track users, leverage data, generate leads, see how many visitors convert on their website, and boost sales. If you choose Hotjar, you will get the following features:
Heatmaps

Session recording and replay

Conversion funnels analytics

Form analytics

User feedback polls

Incoming feedback

Surveys

User testing recruitment
Hotjar's user experience analytics allows you to make informed design decisions, measure engagement and user satisfaction, or collect valuable feedback regarding the performance of specific features of your product.
Hotjar support
If you have any questions about Hotjar, you can head over to the company's help center for answers. You can also fill out a ticket if you need faster assistance, read documentation, or useful guides on their official website.
Hotjar pricing
Hotjar currently offers a free basic plan that includes up to 35 daily sessions and 1,050 recordings per month. If you're looking to improve your conversion rates, you'll need to upgrade to the paid plan. Only then can you gain access to all of the features you need to find hidden insights and create more robust reports.
The Plus plan includes up to 100 daily sessions and 3,000 recordings per month for $39/month.

The Business plan includes up to 2,500 daily sessions, custom-built integrations, and Hotjar branding removal for $99/month.

The Scale plan includes up to 4,000 daily sessions and full access to all features for $389/month.
Hotjar pros
It offers quick and easy installation

It integrates with popular tools such as Slack, Zapier, and Hubspot

It has a low learning curve

It provides visual reports in real-time

It improves continuously
Hotjar cons
You can't use it for mobile apps

If your website visits increase, it can quickly become expensive

You can't create custom reports and need to use a predefined template

You have basic customization options for your surveys

It is difficult to tell if it captures all website traffic
Hotjar useful information
Want to learn more about Hotjar? Check out our comprehensive review or see our top Hotjar alternatives. Also, you can see how Hotjar compares with:
The best free website visitor tracking software
One of the most important tools to have in your web development toolbox is a website tracking tool. There are several free options available that help you gather data about your website's traffic and visitors' behavior. Continue reading and learn more about our two top picks.
Google Analytics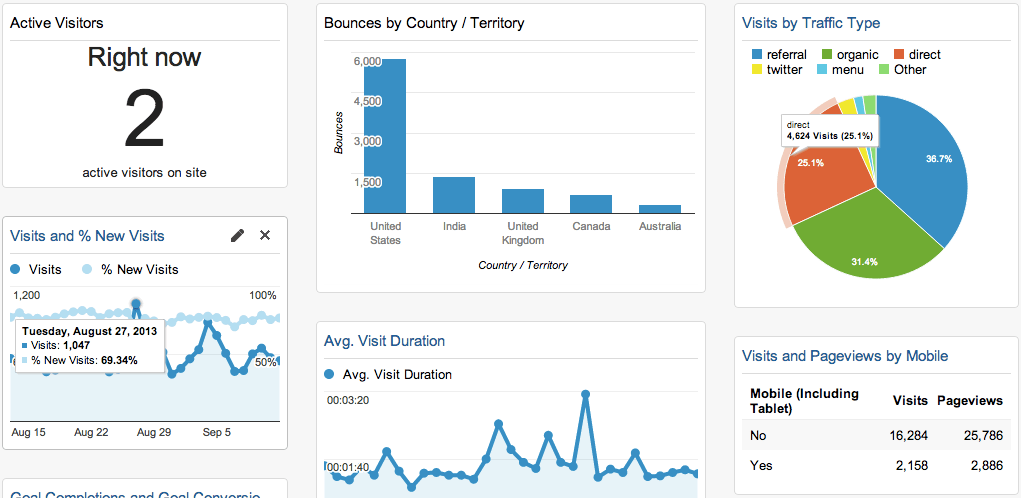 Image source: neilpatel.com
Google Analytics is a free web analytics tool. It lets you track where your visitors are coming from, how they're interacting with your website, and what content on your website is most popular. When you pair it with Google Webmaster Tools, you'll get more information about your keyword rankings and SEO optimization.
It helps you track your performance, determine how well your site performs on different devices and browsers, spot trends that help you create a better product, gather actionable insights to develop an effective strategy, and upgrade your business.
When you use Google Analytics on your site, you can measure the effectiveness of your marketing or sales efforts and improve your site's content based on its performance.
Google Analytics reviews
Based on 3,164 user reviews on TrustRadius, Google Analytics has a score of 8.6 out of 10, with a perfect score of 10 for availability.
Google Analytics users
According to W3techs, 56.8% of all websites use Google Analytics. It is a popular solution for retail, healthcare, hospitality, real estate, computer software, IT and services, automotive, marketing, and advertising industry.
Google Analytics features
You can use Google Analytics for website traffic tracking and looking into demographic data such as the location, device, and language of your audience. There are many features that Google Analytics provides, but we'll focus on the most important ones.
User and conversion modeling

Audience reports and demographics

Advertising reports

Acquisition reports

Behavior reports

Conversion reports

User flow reporting

Funnel analysis

Predictive analysis

Data access, filtering, manipulation, and segmentation

Visualization and monitoring

Tag management support

Google AdSense and Google Search Console Integrations
Google Analytics support
Google Analytics offers a range of helpful articles and guides to help you better understand how your visitors are using your site. Also, if you have any issues with your Google Analytics account, you can start a live chat or send an email to customer support.
Google Analytics pricing
Google Analytics is a free service that lets you collect data on your site's visitors. You just need an email address and a password to start using it. However, you can also use an existing Google account if you already have one.
The Google Analytics 360 is a premium version of Google Analytics. Large businesses use it for $150,000/year. In addition to the standard interface that provides in-depth data analytics, the enterprise version also offers high-actionable insights and advanced reporting tools to help you make better strategic decisions.
Google Analytics pros
It's easy to start using it on your website

It's great for basic data tracking

You can create custom reports or see traffic data in real-time

It helps you understand if your SEO or PPC campaigns are working

It lets you set up goals and monitor each step in the funnel
Google Analytics cons
Google Analytics provides raw data without visual reports

It lacks the context in user behavior analysis

Data interpretation requires time and effort

It lacks advanced features, such as  tracking data on an individual user level

Google Analytics has a high learning curve

Its customization and depth can seem intimidating if you're new to the platform

No one uses all of the features, just a few of them regularly
If you want to learn more, you can read our article to understand how Google Analytics compares to Hotjar.
Matomo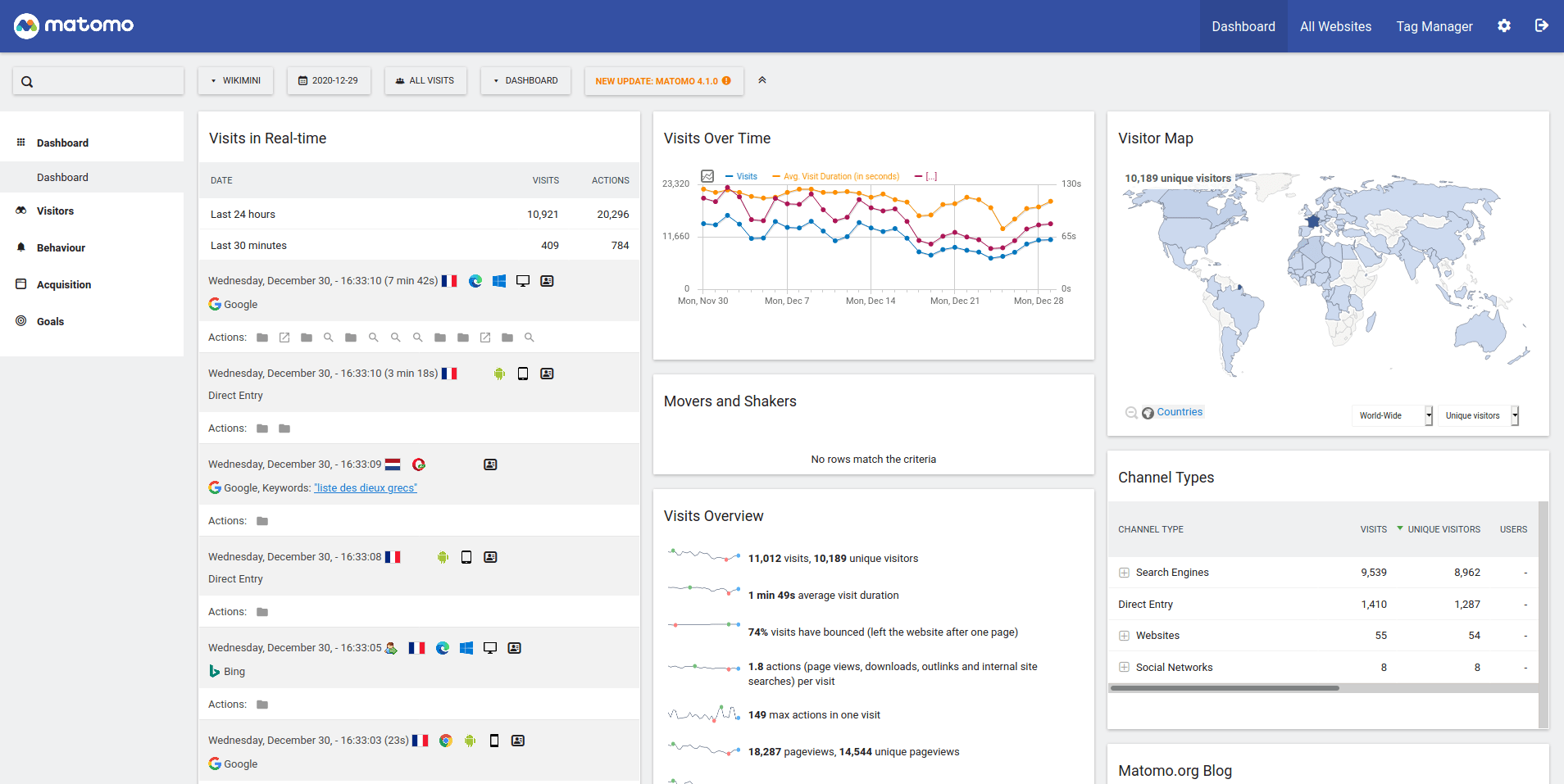 Image source: convesio.com
Google Analytics is the industry standard for tracking website analytics. However, it does not offer the same level of personal data protection as Matomo. With its built-in privacy features, you can be sure that your customers' data are safe and secure while total ownership of your data remains in your hands.
Matomo reviews
Matomo has an average score of 9.0 out of 10 based on 48 reviews from TrustRadius users. A majority of reviewers rate it 9 or 10 for its usability. Reviewers also point out that Matomo provides helpful documentation.
Matomo users
Matomo is a good solution for development, marketing, support, and sales teams working in companies of all sizes. It is popular in government agencies, financial and educational institutions, digital and media agencies, nonprofits, retail, and healthcare.
Matomo features
Plus, the Matomo platform is open source and was built with the help of hundreds of contributors, so it's transparent and scalable. Here is the list of Matomo features:
No data sampling

Media analytics

Content interactions

Heatmaps

Session recordings

Funnels

A/B testing

Form Analytics

Visitor profiles

Enhanced SEO

Tag manager

Custom reporting

Event tracking

Custom dimensions

Email reports

Integrations with more than 100 third-party tools
Matomo support
If you have any issue with Matomo, you can send them an email, read their user guides, visit the FAQ section or discuss with other users on the forum.
Matomo pricing
Matomo is a free and open-source analytics platform if you host it on your servers. There are no limits in terms of websites, team members, segments, or goals you want to track, and you can keep all your data forever. Also, you will need help with the setup because it requires technical knowledge and server ownership.
But here comes the catch. If you want to use advanced behavior analytics tools that Matomo provides, you'll need to pay per feature you want to add. For example, heatmaps, session recording, and custom reports start at 199€/year.
If you want to use Matomo hosted on their servers, it has a monthly price of 19€. It includes the setup, so you don't need to worry about it. This plan comes with a limited number of web websites, team members, segments, or goals you want to track, but it includes behavioral analytics tools free of charge. So it is up to you to decide what best fits your needs.
Matomo pros
Being installed on your server, Matomo provides you with total control over your data.

You can use Matomo to monitor websites, mobile apps, intranet portals, and intranet websites

It doesn't share your data with advertising agencies.

You can upgrade it with over 70 plugins and customize it to fit your needs.

It doesn't sample data, and there is no data limit.

It has some unique features such as real-time visitor details, eCommerce analytics, visitor profile, and real-time visitor maps

It provides mobile apps for iOS and Android
Matomo cons
Matomo collects too much information, so it can be overwhelming

Their website has a bad UI, so it doesn't provide an exceptional user experience

Beginners can have difficulties in understanding charts and graphs
Website visitor tracking software overview
To help you decide which website visitor tracking software is right for your business, we've created a comparison table. We've compared the five best solutions based on the following factors: pricing and plans, integrations, flexibility and simplicity of set up, ease of use, customer support, and key features.
FullSession
Kissmetrics
Hotjar
Google Analytics
Matomo
User reviews

N/A

8.1 out of 10 on TrustRadius

8.7 score out of 10 on TrustRadius

8.6 out of 10 on TrustRadius

9.0 out of 10 on TrustRadius

Best for

For cross-functional teams, including sales and marketing teams, product teams, and UX research teams

For SaaS or eCommerce industry

For product managers, product designers, and UX researchers

For retail, healthcare, hospitality, real estate, computer software, IT and services, automotive, marketing, and advertising industry.

For government agencies, financial and educational institutions, digital and media agencies, nonprofits, retail, and healthcare

Unlimited sessions

No

No

No

Yes

Yes

Heatmaps

Yes

No

Yes

No

Yes

Session recordings

Yes

No

Yes

No

Yes

User feedback

Yes

No

Yes

No

No

Custom reports

No

Yes

No

Yes

Yes

Support

live chat, send an email, help center, guides

help center, knowledge base, live chat or send an email.

Submit a ticket, help center, documentation, and guides

help center, knowledge base, live chat or send an email.

Email, user guides, FAQ, or forum

Free trial

Yes

No

Yes

Yes

Yes

Pricing

Starts at

$39/month

$299 per month, billed annually

Starts at

$39/month

Free

Free
Why choose FullSession
A positive customer experience is essential to the success of any business. The way customers view your business, products, or services has a direct impact on their willingness to spend money with you. If they have a poor experience, chances are high that they won't end up making a purchase. 
With FullSession, you can gather data that allows you to create the best experience for your customers and lead to the growth and expansion of your online business.
Always free to sign up FullSession doesn't require any credit card information. We have a 14-day free trial, so you can get started today and see how easy it is to engage customers, improve your website, and take your business to the next level. Sign up for free, play around, and test out all the features.
FAQ
We've put together answers for some common questions about website tracking and website analytics, so check them out below!
How can I track website visitors?
The FullSession six-step process is simple and quick. Here's how it works:
Create your free account.

Add your first and last name.

Place the URL of your website or web app in the field

Choose where you want to install FullSession and get your Recording code or User ID code.

Verify installation.

Invite your team.
That was easy! You can start with website visitor tracking in only a few minutes.
How do you choose good software for website visitor tracking?
Choosing the right website visitor tracking software is a process that requires you to evaluate your current needs and budget with an eye toward the future, making sure to assess the scalability and flexibility of each option.
Consider which features you need from your visitor tracking software: real-time analytics, heat maps, digital engagement monitoring, advanced user segmentation? When you have answers to all these questions, you can make a safe choice.
What is the best software for website visitor tracking?
There is no universal answer to this question as each business and website is unique, but there is a solution that will help you take your website performance to the next level.
We recommend you start using FullSession, our advanced website visitor tracking solution that provides all the features you'll need to see how your visitors interact with your website. That way, you can improve conversion rates to get more leads, customers, and sales. You can test it with a 14-day free trial, no credit card required.